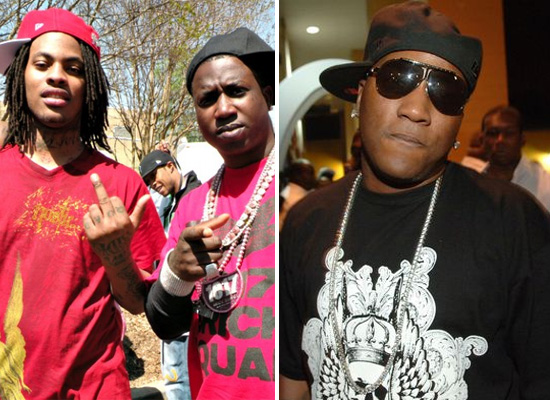 Gucci Mane's new artist Waka Flocka Flame just can't stay out of trouble it seems. Flocka was involved in a near-fatal shoot-out after he and his entourage spotted Young Jeezy's crew at Walter's Clothing in downtown Atlanta.
According to various reports, members of rapper Young Jeezy's crew approached Flocka and his crew (Gucci Mane's camp), which lead to a fight and gunshots were fired. Waka's security shot a gun off in the middle of the brawl, but no one was seriously injured. Police confirmed the event took place around 4 P.M.
"There was a physical altercation inside the location between several men," Atlanta police spokesman James Polite confirmed to the AJC. One of the men produced a weapon "and as a result a private armed security guard of a local entertainer discharged his weapon." Polite said the security guard,  employed by local rapper Waka Flocka Flame, has been detained. The fighting was intense, witnesses said. "They just started going at it," said Morrison, a Walter's employee.

Waka Flocka Flame, aka Juaqin Malphurs, is a member of Gucci Mane's 1017 Brick Squad. His pseudonym alludes to the sound of cocking a semi-automatic pistol. "Whoever he is he's got a big swollen eye now," Morrison said.
Waka Flocka Flame, who was shot earlier this year when he was approached by an armed man at a car wash in the Atlanta area, has another side of the story though. And in his version, he's not the one walking out with wore wounds.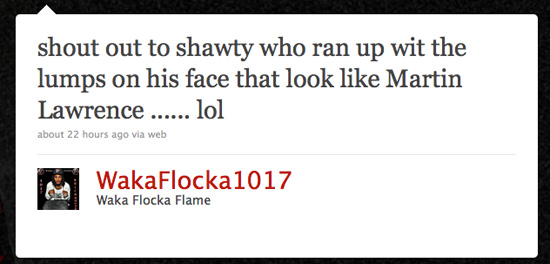 Be the first to receive breaking news alerts and more stories like this by subscribing to our mailing list.