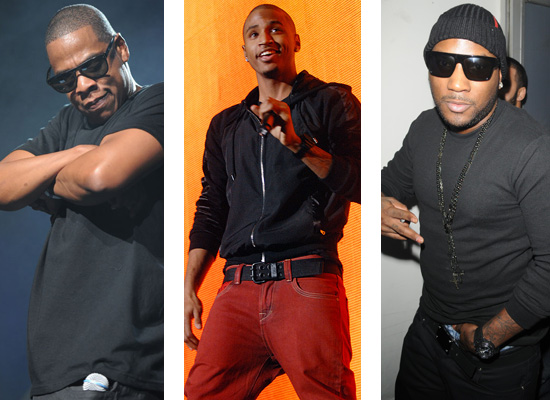 We don't why we had a feeling that this was going to happen, but Jay-Z has been recently talking about a crew that he is working on called the Mob Squad consisting of Young Jeezy, Trey Songz, and Hova himself! Here's what he had to say during a recent interview with popular Atlanta radio personality Greg Street:
"Yeah, the Mob Squad, I'm trying to put that together," Jay told radio personality Greg Street. "Trey made a song, I'm just trying to refine the hook so we can get our first song out there. I don't know if Jeezy heard it yet so I'm probably gonna surprise him with this but we got it Mob Squad.
Here's what Trey Songz said about it:
"The way Jay explained it to me, he wanted to give people the best show possible," Songz said in an interview. "They could have easily done it by themselves and it'd be great. But [Jay] wanted to give the best show. All of us bring a separate aspect to the table, making it a great show all the way. I'm there for the ladies, of course. Then I bring an R&B soul vibe and my hip-hop. Jeezy got the streets. And Hov is Hov. It's definitely all in the talks [as far as collaborations.] It's the Mob Squad. Me, Jay, Jeezy, we plan on working together while we on this tour because the energy we have together when we get around each other is amazing. And like I said, all aspects like that on a record is amazing. Maybe while we out on the road we get it done."
We aren't not sure if we want to see these three together in a group.  Seeing these artists as solo acts is much more interesting. Besides, most of these spur of the moment "groups" never work out in the end. Remember CRS? Or what about TGT? Or let's take it back even further to LSG! …… See our point?
Be the first to receive breaking news alerts and more stories like this by subscribing to our mailing list.