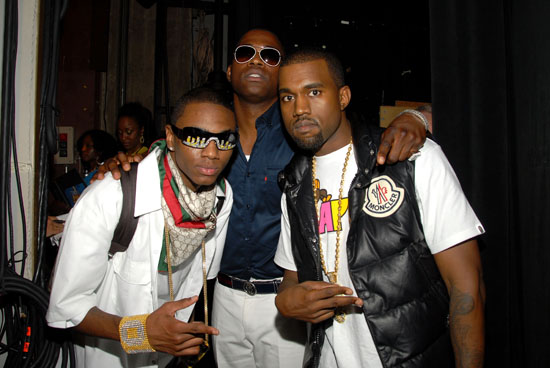 Most of you probably have noticed that Soulja Boy has been pretty quiet lately. Why, you ask? The young rapper has been apparently working on a brand new album The DeAndre Way. Soulja Boy's new album is supposed to display his true skill, which has been criticized heavily ever since he hit the scene with "Crank Dat." But does Soulja Boy actually have some lyrical skills? Kanye West thinks so. MTV is reporting that the two rappers/producers have been collaborating on new material for both of their upcoming albums. Here's what Soulja Boy had to say about getting the stamp of approval from Kanye:
"When I was in the studio, I played him a couple of joints, and then he just said, 'Damn, he's really starting to go hard,' " Soulja Boy told MTV News on the red carpet of BET's Rip the Runway. "And I was like, 'Yeah, you feel me?' … Out of all the artists to get the go-ahead or the co-sign from, it was Kanye."
Should we really believe this? Was Kanye being truthful to Soulja Boy? We don't know. Maybe Kanye was just trying to be nice and not hurt the little guy's self-esteem. But we'll see when that album drops…
Be the first to receive breaking news alerts and more stories like this by subscribing to our mailing list.