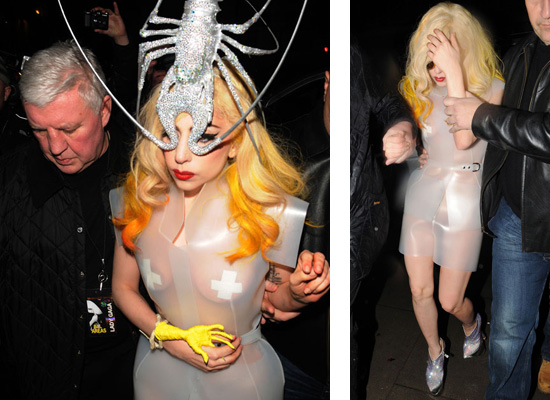 Wearing a see through plastic dress and a silver lobster headpiece, pop singer Lady Gaga was spotted outside Mr. Chow's restaurant in London, England Saturday night (Feb 27) following her last "Monster Ball" tour date in the English capital.
In related news, Gaga recalled of an incident where an ex boyfriend of hers said she would never amount to anything and said that she was a complete failure, which in turn, made her that much more determined to succeed as a pop star.
She tells Cosmopolitan magazine, "I had a boyfriend who told me I'd never succeed, never be nominated for a Grammy, never have a hit song, and that he hoped I'd fail. I said to him, 'Someday, when we're not together, you won't be able to order a cup of coffee at the f**king deli without hearing or seeing me.'"
And she was 100% right on the money! In a period of less than 24 months, Lady Gaga has sold millions of albums worldwide, been nominated for 6 Grammy Awards (2 of which she won) and is currently headlining her first world arena tour.
Whoever this guy is, we know he feels like sh*t right about now. Dumbass…
Be the first to receive breaking news alerts and more stories like this by subscribing to our mailing list.