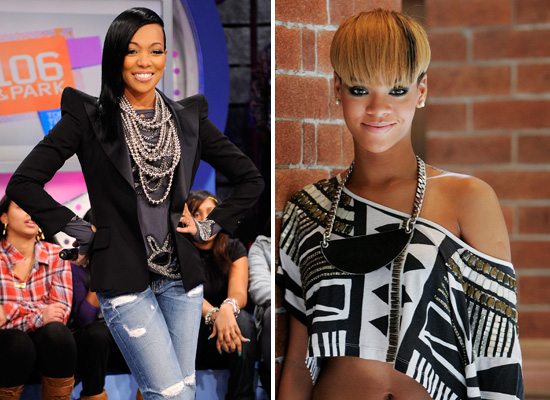 Our friends over at That Grape Juice recently got the chance to interview R&B singer Monica and this is what she had to say about her first encounter with pop singer Rihanna.
TGJ: Who would you say have been the nicest and rudest celebrities you've met to date?

Monica: I was really surprised, Rihanna and I use the same makeup artist sometimes, and I called her phone the other day and I was talking to Myla and she said 'Oh my God we're listening to you' and I said who, and I heard somebody with an accent say [does an accent] 'who are you talking to, that can't be Monica…. I love her, oh my God' and we talked and it was heart-warming for one to see someone that's a of a superstar status enjoy my music and is not afraid to say 'look, I love your work, I love what you do, I love your voice'. I think it's important for all of us to stay humble enough to pay respect to those who came before us in any way and that was very heart warming for me.
They also talked to Mo about her family, her new album and tons more. Definitely an interesting read. Continue reading for the full interview…
Be the first to receive breaking news alerts and more stories like this by subscribing to our mailing list.