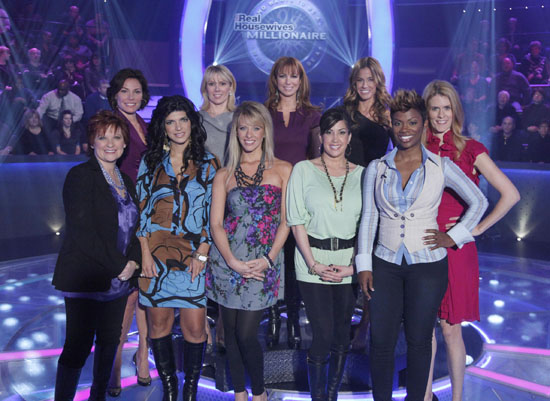 There is about to be some serious drama as the cast of the NY, NJ, Atlanta and Orange Co. "Real Housewives" shows gather together on the set of "Who wants to be a Millionaire" next week (Mon. Feb 22 – Fri. Feb 26).  This will be a special presentation called, "The Real Housewives of Millionaire." Via press release:
Andy Cohen, Executive Producer of the hit show and host of the "Watch What Happens Reunion Specials," will sit in via Skype as the "Expert" for the "Ask The Expert" lifeline all week. Celebrity housewives will be paired in the hot seat with the contestant housewives and will be able to help them answer trivia questions. After discussing the question and four possible answers, only the real-life housewife will be able to give host Meredith Vieira her 'final answer.'
This should be a sight to see!
Housewives teaming with contestants include New Jersey cast members Caroline, Dina, Jaqueline and Teresa; New York cast members Kelly, LuAnn, Ramona, Alex and Jill; and from Atlanta, Kandi. Celebrity questions will be presented to the contestants by Orange County Housewives Vicki, Lynne, Jeana, Gretchen and Tamra, as well as Danielle from the New Jersey cast and Lisa and Sheree from Atlanta.
From Jill Zarin (NY):
Jill Zarin of New York City reveals that when Millionaire first premiered in primetime in 1999, she called in to try and become a contestant: "I'm really excited to be here. I bet I'm the only one who really watches the show on a regular basis. I watch it every day. I TiVo it and watch it at night. I do. And then when I got asked to be on the show, I died. It was like dying and going to heaven."
From Kandi Burruss (Atlanta):
As the sole representative from Atlanta, Kandi Burruss said, "I really enjoyed getting to meet the other ladies from Jersey and New York City. I've never met them before, so it was really cool and I'm a big fan of the New Jersey Housewives. See, they're cool and laid back. The Atlanta housewives, we keep it crunk all the time, so you need to have all of us up here. It would be crazy!"
From Dina Manzo (NJ):
Both Dina and Teresa from New Jersey said they hoped to get a lot of pop culture questions in the hot seat. Dina said, "I've been too busy to get ready, that's why I'm so afraid. I could redecorate the whole set with my eyes shut, but I'm scared to answer these questions. I just hope she has a good sense of humor, my partner."
From Countess LuAnn de Lesseps (NY):
"I'm really excited to be on 'Who Wants To Be A Millionaire' because it's the first time I've ever been on a game show. I'm super excited. I'm a little nervous, but I love multiple choice, so I feel kind of secure there."
Be the first to receive breaking news alerts and more stories like this by subscribing to our mailing list.