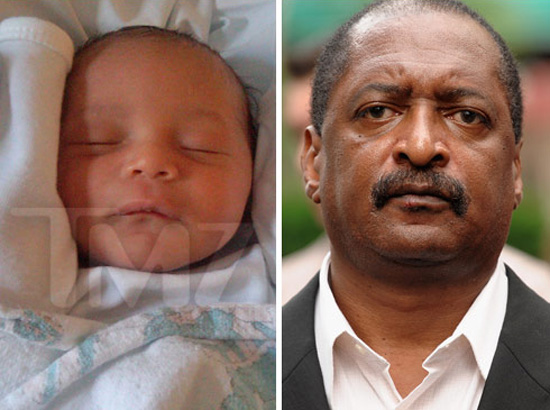 Though a paternity test is still pending, an L.A. judge ordered Mathew Knowles to pay up for his alleged newborn son Nixon (pictured above). According to TMZ, the judge ordered Knowles to pay $8,200 per month in child support, in addition to 100% of uninsured medical costs.
A woman named Alexsandra Wright claims that Mathew is the father of her newborn son Nixon, who was born February 4th. And apparently, little Nixon is the result of an 18-month affair between Wright and Knowles. Alexsandra's lawyer asked the judge for financial support from Mathew, who technically didn't "confirm" that he's the child's father, but back in January gave Alexsandra $10,000 to cover her immediate medical costs, which proves that there's a really good chance that Mathew is the baby's daddy.
A DNA test is set to take place on March 1st to determine the newborn's paternity, but in the meantime, Knowles was still ordered to pay child support, backdated to February 1st in addition to the baby's extra expenses and uninsured medical bills. It's unknown whether or not the judge will order that Knowles pay more if he's determined to be the child's father.
Furthermore, the judge ordered Mathew to pay his alleged baby mama $20,750 for the month of January.
Be the first to receive breaking news alerts and more stories like this by subscribing to our mailing list.