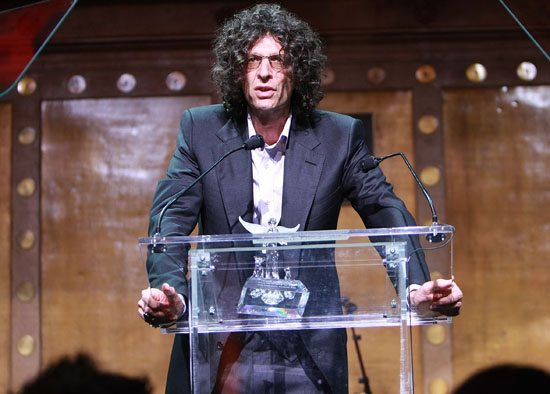 We told you guys yesterday about radio shock jock Howard Stern being the top prospect to replace Simon Cowell on American Idol. And until now, Stern has said very little about the numerous reports saying that he was being pursued by Fox to replace Simon.
Monday morning (Feb 8), the King of Radio went on his hit XM/Sirius radio show, The Howard Stern Show, and talked about the Idol chatter for literally 2 hours plus making a complete joke of the whole situation and the show itself by calling it a "karaoke contest." He also attacked Idol judges Randy Jackson and Ellen Degeneres, and said that the show's host Ryan Seacrest would quit if he took over Idol. Simply hilarious in our opinion.
Based on how Howard Stern joked on the situation, we doubt that he has any plans of taking over this show, but who knows! For all we know this could be a publicity stunt between him and Fox. And even though Howard made a joke of the rumors, he never flat out denied that he had been approached by the producers of Idol nor did mention that he declined any offers.
We will keep you posted as more details unfold. Until then, read on for some of what Stern said on the show.
"I'll do that for $100 million." Stern said. "For $100 million a year, to judge a karaoke contest? Ok. Why not? It might be possible. We'll see," added Stern. "Name a person who could bring more excitement to that show than me. If I was the judge on 'American Idol,' looks would play into the judging, too," Stern said.  I would be honest with them. I would say, 'Look at you. You're out of shape, go work out.' It would be sort of like 'The Biggest Loser' and 'American Idol' combined. And believe me, I'll find some Kelly Clarksons out there," Stern continued. "First of all, I would have straightened out that Adam Lambert, number one. That's why his career tanked — the kid had more publicity than anyone  and he f—ed up. And Number 2, I wouldn't even put through that good looking kid who won, that Kris Allen. He never would have even been through."
"Carrie Underwood — I would've told her to lose weight. I remember she was chubby, and look at her — she looked great on the Super Bowl. And Fantasia Barrino…I like you, but you gotta clean up your act."

"I'm gonna buy one of those taser guns; I'm gonna tase Ellen DeGeneres," Stern joked. " 'Go ahead Ellen, why don't you do that dumb dance you do on your show? Here's my taser.' Can you imagine me sitting there with like a little ping-pong paddle, and I smack Randy Jackson's belly every time he opens his dopey mouth?" Stern continued.

When a listener asked Stern if consider keeping his radio show while judging "American Idol," the host responded, "Hell, no…I'm just gonna do what Oprah pulled on Sirius XM. I'm gonna ask Sirius for $50 million not to show up and i'll just record a phone conversation with [co-host] Robin [Quivers] once a week."

SOURCE
Be the first to receive breaking news alerts and more stories like this by subscribing to our mailing list.