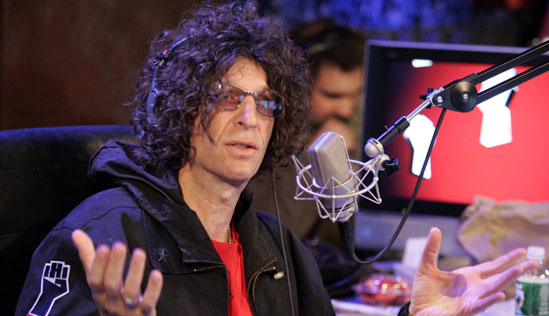 Radio jock Howard Stern to replace Simon Cowell on American Idol? It sounds funny, but according to recent reports, this could be quite possible! The NY Post's "Page Six" gossip column is reporting that the producers of Idol are going hard in their attempt to get Howard Stern signed on to replace Simon. Apparently, Stern's mega contract with Sirius XM is slated to come to an end very soon after years of dominating the satellite radio waves.
An insider said that producers of the hit Fox show say Stern, America's highest-paid radio personality, is their top choice to take over from Cowell, who leaves at the end of this season. They approached the King of All Media after he repeatedly mentioned on-air that his exclusive Sirius XM Radio deal expires next January and he was open to other offers. Cowell was paid $50 million a year. A source connected to "Idol" said, "It's one of the few shows that could compete with Stern's $100 million-a-year Sirius contract, and 'Idol' bosses think he'd be even nastier than Simon. "They know he would be great TV and would clash with the other judges such as Ellen DeGeneres and the contestants. 'Idol' will do what it takes to sign him."
But Howard isn't ready to make a commitment just yet, not until the money is right at least.
But a second source told us Stern hasn't made the "Idol" talks easy, and has been giving out mixed messages about his intentions. "Despite what he's been saying on-air, Howard isn't ready to leave radio and would like to stay on at Sirius," the source said. "We believe this is a ploy to make Sirius pay up and keep him on his huge contract. But if Sirius can't pay him the money he wants, he may negotiate to film 'Idol' on the side."

Stern is also believed to be reluctant to commit to a show that would require him to tour the US as a judge and spend much of the year in Los Angeles. He recently said, somewhat cryptically, "I was approached by a major TV network to take over a TV show and leave here and do that next year — and I did turn it down . . . I'm not even sure if I want to be working. I'm waiting to see what happens."

NY POST

If there's anyone who can fill Simon's spot, it's definitely Howard Stern! Simon is one cold individual, but we think that Howard Stern would be flat out ruthless on Idol as a judge.
Be the first to receive breaking news alerts and more stories like this by subscribing to our mailing list.