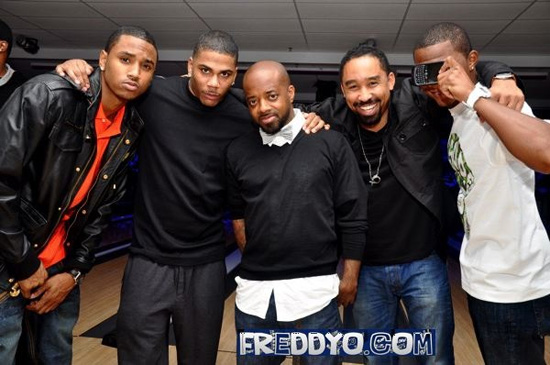 The guys pictured above, along with producer Bryan Michael Cox, have a new show in the works. They're calling it a male version of ABC's "The View" and Nelly's the driving force behind it all.
He announced that he is developing a talk show with a few of his hip-hop and R&B cohorts. Nelly explains, quote, "It's me, Jermaine Dupri, Trey Songz, Johnta Auston, Brian Michael Cox and Tyrone 'International' Davis(JD's Right Hand Man). We're working on kind of like the male version of 'The View.'" Nelly says he has always wanted to branch out, but turned down a lot of previous offers because, quote, "I felt I wasn't ready yet." He adds, quote, "I never want to disrespect the culture and the thing that is acting, thinking just because I'm Nelly I'm going to transition and be good at it."
Nelly is also said to be working on his sixth studio album, which is currently untitled and expected to be released later this year. No word on when the show will premiere.
Be the first to receive breaking news alerts and more stories like this by subscribing to our mailing list.