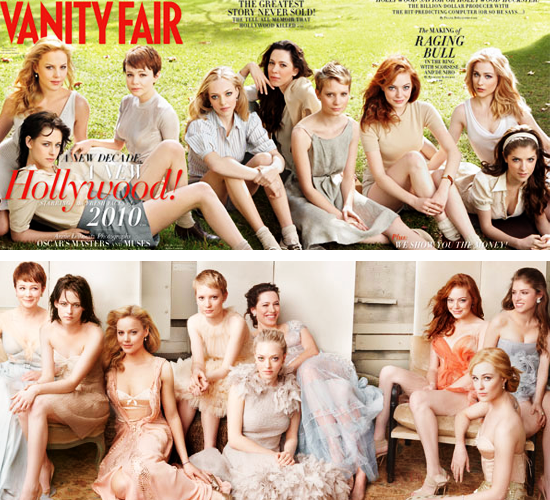 It's become a trend for Vanity Fair to shoot an issue every year titled "A New Hollywood" that includes up and coming actress that have recently made splashes in Hollywood. When I first saw the cover for the 2010 issue, I did a small double take. The article included Twilight's Kristen Stewart but not Gabourey Sidibe? Then I decided to look at the full spread, hoping she'd be there; but no, she wasn't. And as I examined the spread more, it came to my attention that there was something seriously missing here: African-Americans! A friend of mine made a comment that it was the "skinny white girl" issue and honestly, I could not agree more.
This year's ladies include (2nd Picture: left to right) Carey Mulligan, Kristen Stewart, Abbie Cornish, Mia Wasikowska, Amanda Seyfried, Rebecca Hall, Emma Stone, Evan Rachel Wood, and Anna Kendrick. Now tell me, how many do you recognize? I'm a film major and only recognize five but have only seen four of them act. Amanda Seyfried stared in the movie musical Mamma Mia! and later went to co-star in the flop Jennifer's Body. Kristen Stewart stars as Bella in the franchise Twilight, though her acting can be seriously questioned. Emma Stone has gone the comedian route in movies like Superbad and Zombieland but apart from that, hasn't done much else. Lastly, Evan Rachel Wood starred in the movie Thirteen years ago and has recently been in Across the Universe and The Wrestler. As for the fifth one I recognize, I've seen Anna Kendrick in the trailers for Up in the Air.
Needless to say, it is very clear that there is a conscious effort not to include two female African-American actresses who have made more than just a splash and have more credibility under their belts than the featured actresses. Gabourey Sidibe, for one, has only been in one movie, Precious, and has already received both Oscar and Golden Globe nominations for Best Actress, with ten other wins. She has been proclaimed as one of the breakout performers of the last year, yet she doesn't make the "New Hollywood" list? Hmm…
Next is Zoe Saldana. Yes, she's had small roles in movies such as Pirates of the Caribbean and Vantage Point but it wasn't until last year when she broke out as a star with her role as Nyota Uhura in Star Trek. She then went in to grab a lead role in the record breaking Avatar. She's been nominated for an Image Award, MTV Movie Award, etc., and with a sequel to Star Trek in the works and four movies already completed for 2010, I think it's clear to say that she is definitely a breakout actress. Yet, again, she doesn't make the "New Hollywood" list? Something doesn't seem right here.
I can't honestly see why Zoe did not make the list. She's thin, beautiful, and talented. She doesn't have the bra size of the women on the cover and she has acknowledged it, but that didn't stop her from making People Magazine's annual 100 Most Beautiful People in the World list. Some will defend Vanity Fair, saying it's because she has acted before 2009 or even 2008. But so has the other females on the cover. Kristen Stewart starred in Speak and Catch That Kid in 2004, and Panic Room in 2002 while Evan Rachel Wood's credentials go back all the way to 1994. So what other reason could they possibly have not to include her? It's not like the others have had a bigger hit than Avatar. As for Gabby, I think it's clear why she wasn't included: she doesn't fit into today's mold of what females should look like. She isn't the skinny light-skinned stunning beauty. But so what? With only one movie, she's already nominated for the two most prestigious awards in the film industry, a feat not even Anna Kendrick, also an Oscar and Golden Globe nominee, can size up to.
There's only one reason that I can think of that these two aren't featured and as we are living in the 21st century, it's a shame that we must result to it. This seems to be a deliberate exclusion of African-American women for the sake of sales. After the success of African-American women such as Oprah, Tyra Banks, Beyonce, Halle Berry, Jennifer Hudson, etc., you would think that this wouldn't be an issue that today's society should have to deal with but clearly it is, and it should be addressed.
What are your thoughts on Vanity Fair's cover? Do you agree and think that Gabby and Zoe should have been featured and that they're clearly trying to fit a stereotype? Or do you think this conclusion is digging too deep and reaching?
"Being beautiful doesn't have anything to do with how the world perceives you. What matters is what you see." – Gabourey Sidibe.
Written By: Kenni Nwajagu
Assistant Editor for Gossip On This
http://twitter.com/Kenni329
kenni@gossiponthis.com
Be the first to receive breaking news alerts and more stories like this by subscribing to our mailing list.