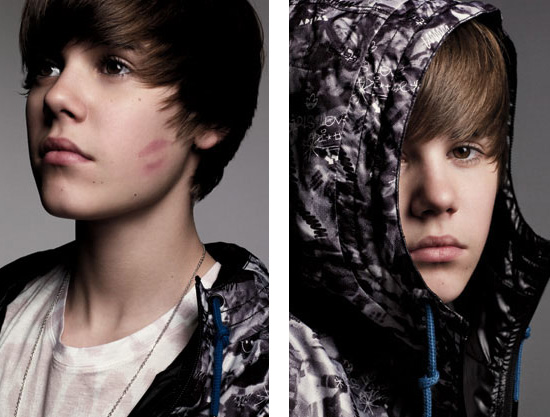 Right now you could probably say Justin Bieber is one of the luckiest teenagers in the world. And now his luck is a bit more evident as he shows off red lipstick on his cheek, which according to VMan Magazine came from Rihanna! The 15-year-old rising pop sensation recently did a spread for the latest issue of VMan Magazine where he talks about his encounter with Rihanna, how he got discovered on YouTube and more.
Justin Bieber shows up to the shoot with a bright-red lipstick kiss on his left cheek. "Rihanna gave that to me," he announces unprompted, flashing a million dollar grin. At 15-years-old, he is having the time of his life. Less than two years ago he was just a kid, sitting at home in Ontario, Canada, posting videos of himself singing on YouTube."I never knew it was gonna be a big thing," he laughs. "I started posting, and then like a month and a half later, a lot, like tons, of viewers were coming in."

Soon he had a manager. Then he was being flown to Atlanta where Usher signed him to Island. Sure, he doesn't get to see his friends as much as he might like, but Bieber is the type of kid who, when he's hanging out with Taylor Swift, Diddy, and Justin Timberlake, doesn't suffer from too much homesickness.

Over the last year, he's spent a lot of time in Atlanta working with his team on his first two albums, the second of which comes out in March. There wasn't much he needed to be taught musically (his old pre-celebrity videos are still on YouTube, and he was just as good then as he is now), but he has picked up something of a Hotlanta edge. "I'm just a kid so I can rock whatever," he says in an accent more Southern than Canadian. "In the last year I think I've developed my style a little, as I've built up my swagger."

SOURCE
The second part to Bieber's two-part debut album My World hits stores March 23rd…
Be the first to receive breaking news alerts and more stories like this by subscribing to our mailing list.