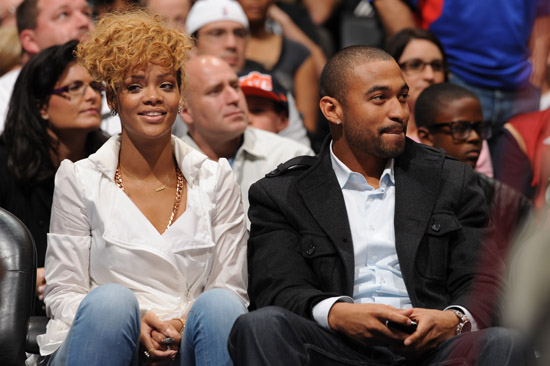 That Rihanna sure does know how to pick 'em doesn't she 🙂 Apparently that new guy she's been seen frolicking around with has more skeletons than a cemetery and isn't much of an "upgrade" (as some would say) from her last boyfriend. LA Dodger Matt Kemp's ex girlfriend, actress Felisha Terrell, says she put out a restraining order against him back in June 2008 because she feared for her life.
Rihanna, 21, is currently dating LA Dodgers star Matt Kemp, and an ex-girlfriend of his, actress Felisha Terrell, 30, has revealed his violent past and claims that she took a restraining order out against him in June 2008.

"He is violent and I am afraid. He repeatedly made me scared and gets in my face. He is threatening to take all the items I purchased and try to destroy my property," the Mirror quoted her as saying. "He brings his friends driving up and down the street to try and intimidate me. I am very fearful. He has other people calling me and stalking me," she added.

Terrell had in her application for the restraining order claimed that Matt was "kicked out of a club for fighting with a woman – I am afraid his behaviour will turn towards me since we are no longer dating."

SOURCE: YAHOO! NEWS

Matt's agent Dave Stewart later released a statement attempting to provide more insight on the baseball player's relationship with Felisha, whose PR team also sent out a statement basically saying the same thing but from her prospective.
But what stood out to us was the fact that Matt's name was apparently involved in a rape case back when he was high school. Some girl alleged that Kemp, who was 17 at the time, and two of his basketball teammates "forced sexual conduct on her." Continue reading for more on that and the statements from he and Felisha Terrell's agents!
"I hope the following statement we are releasing on Matt's behalf helps to provide some insight: Matt dated Felisha about two years ago and decided to end their relationship. She chose to file a complaint and shortly thereafter, on her own accord, decided to drop it…. She has very recently said that she has no issue whatsoever with Matt and that she and Matt consider this to be a non-issue. Matt Kemp is a consummate Midwestern gentleman who has never displayed any act of violence towards a woman."
And Felisha's PR team released this:
"Felisha Terrell and Matt Kemp lived together and were in a relationship for over a year where they both cared for one another. During the course of the relationship there was a restraining order filed by Felisha but it had nothing to do with domestic violence and to be clear Matt was never physically abusive to Felisha, nor did she fear for her life. The restraining order was subsequently vacated. They both have moved on separately but remain amicable."

SOURCE: LA TIMES

So it sounds like she put out a restraining order accusing him of beating her but then took it back because she was lying. But what about him getting kicked out of a club for "fighting with a woman?" Who was that woman?
And get this: 6 years prior, back in 2002, a young woman claimed that Matt and two former basketball teammates of his raped her at a hotel in Columbus, Ohio.
The victim's name was not disclosed. The woman claimed that three men — Kemp, Sheldon Williams, De'Angelo Alexander — forced her into sexual conduct at the Columbus Hyatt Hotel at about 2AM on a Sunday morning. All three accused men were in high school at the time, and in Columbus, Ohio for the National Hoops Classic basketball tournament.

No arrests or charges were filed against the men but Columbus police confirmed that during their investigation both Williams and Alexander had been questioned. "The woman's accusations are false," Williams was quoted saying in 2002 about the incident. "We were in our room getting ready to go to bed, and someone came in, and things got out of hand, and then Coach came in and broke it up." As a result, he and his teammates had been suspended from school and kicked off the basketball team. Williams, however, went on to play basketball for Duke, Alexander to shoot hoops for the University of Oklahoma and Kemp to bat for the L.A. Dodgers.

SOURCE: THE BOOMBOX

Wow! Rape? Charges were dropped and he was never arrested but damn, that's pretty serious…
Be the first to receive breaking news alerts and more stories like this by subscribing to our mailing list.