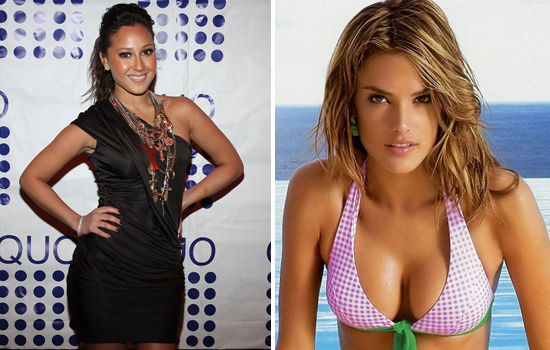 Could it be true? We are getting the feeling that Rob Kardashian's ex girlfriend, Adrienne Bailon may have a little bi-sexual thinking in her.
The New York Post is reporting that Adrienne recently attended the Victoria's Secret Beauty Preview event for their upcoming "Tease for Two" products and was extremely anxious to meet supermodel Alessandra Ambrosio. She reportedly told her friend, "I'm not sure I can do it."
What the heck? What is the big deal about meeting this Ambrosio chick?
Well, we are also hearing that she almost passed out over excitement when she finally caught up with the supermodel at the event. You typically only see women act in this way when they are meeting males whom they have crushes on. Clearly, Adrienne Bailon has a thing for Ambrosio.
Be the first to receive breaking news alerts and more stories like this by subscribing to our mailing list.