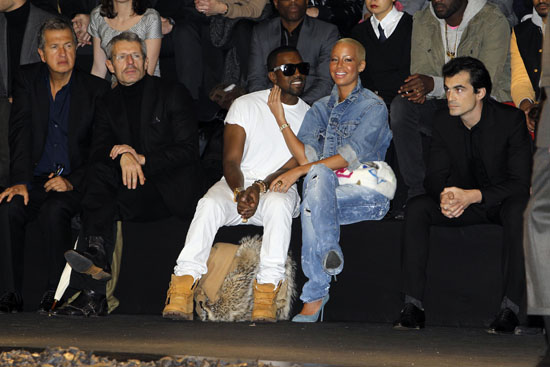 We told you it wouldn't take long for PETA to publicly express to fur-lovers Kanye West and Amber Rose how they felt about their choice of attire at the Louis Vuitton fashion show during Paris Fashion Week last Thursday.
Quoting Kanye West's popular song "All Falls Down," PETA said on their official website:
The prettiest people do the ugliest things ?For the road to riches and diamond rings?. . .?We'll buy a lot of clothes but we don't really need 'em ?Things we buy to cover up what's inside

—Kanye West, "All Falls Down"

West apparently lives by his lyrics. The ethical dropout—who horrified voters in PETA's Worst-Dressed Celebrity competition last year—and his sleazy sidekick, Amber Rose, were snapped by paparazzi strutting around Paris in "the ugliest things," indeed. Both were wearing head-to-toe fur, and Amber refused to remove her full-length lynx coat during a show at Paris Men's Fashion Week.

As PETA V.P. Dan Mathews so eloquently put it, "Kanye can't help making himself look like an idiot, whether at an awards show or a fashion show. He and his girlfriend look like pathetic creatures from a shabby roadside zoo."
Here are few pics of the fur-real couple at the Dior Homme and Dunhill Paris Menswear Fashion Week 2010 fashion shows…
PHOTOS: GETTY IMAGES / WIRE IMAGE

Be the first to receive breaking news alerts and more stories like this by subscribing to our mailing list.