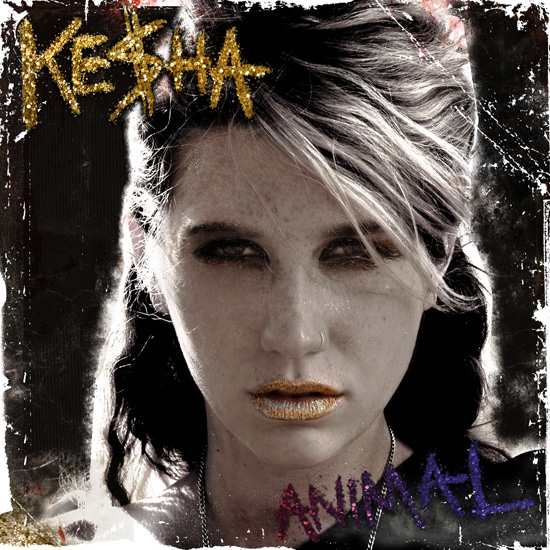 Even if Ke$ha never made a hit past that "Tik Tok" song, she'll always be remembered for being the person to knock Susan Boyle out of that #1 position on the Billboard 200 album charts. Her debut album Animal sold 152,000 copies in its opening week, making it this week's highest selling album in the country.
As expected, Ke$ha opens at No. 1 on the Billboard 200 with her debut album "Animal," shifting 152,000 copies, according to Nielsen SoundScan. The newcomer's set replaces Susan Boyle "I Dreamed a Dream," which drifts to No. 2 with 93,000 (down 32%) after a six-week run at the top of the heap. Young fans of Ke$ha must be delighted to see the 22-year old party-hearty girl bump the soaring sounds of the 48-year old Scottish reality TV star.
With 152,000, "Animal" actually sold better than first projected. Initially, some industry sources thought it was going to sell around 100,000 copies in its first frame. That prediction came as a result of how "Animal" sold a boatload of downloads in it first two days of release. Albums that initially sell big download numbers generally tend to trail off quicker as the week progresses. Thus, some industry projectors figured "Animal" would sell around 100,000.

As it turns out, "Animal" held up very well all week long, especially at digital download stores. It also helps that set carried an attractive developing artist list price of $9.98, and it was on sale for less than that at the big physical retailers. Additionally, both the Amazon MP3 and iTunes stores sold it for only $6.99.

In total, 76% of the album's first-week sales came from download retailers. That's the largest weekly digital percentage share for an album at No. 1 on the Billboard 200.

SOURCE: BILLBOARD

Be the first to receive breaking news alerts and more stories like this by subscribing to our mailing list.