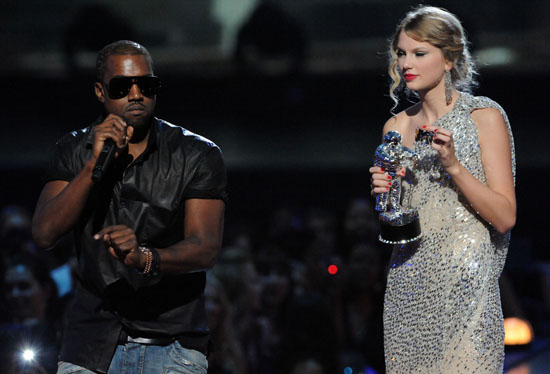 Wow! We guess Kanye's back…
Kid Cudi brought out his mentor Kanye West at his concert in LA the other day. Kanye spoke to the crowd for a second (and brought out his girl Amber Rose real quick) and spit a few bars from a song he's working on. And the first line has EVERYBODY talking!
"I sold my soul to the devil! / I know its a crappy deal, it came with a few toys like a happy meal / I'm spaced out God, I be on that moon talk, I wonder if God ask Mike how to moon walk…"
Now that can be taken two ways. People already believe he's a part of this secret society known as the "illumanti" or "New World Order" or whatever, and him saying "I sold my soul to the devil" doesn't exactly make those rumors go away. But on the other hand, he could be speaking metaphorically and the devil he's talking about is the record labels and the industry itself. But what do you think? Discuss!!
Continue reading for the video…
Be the first to receive breaking news alerts and more stories like this by subscribing to our mailing list.