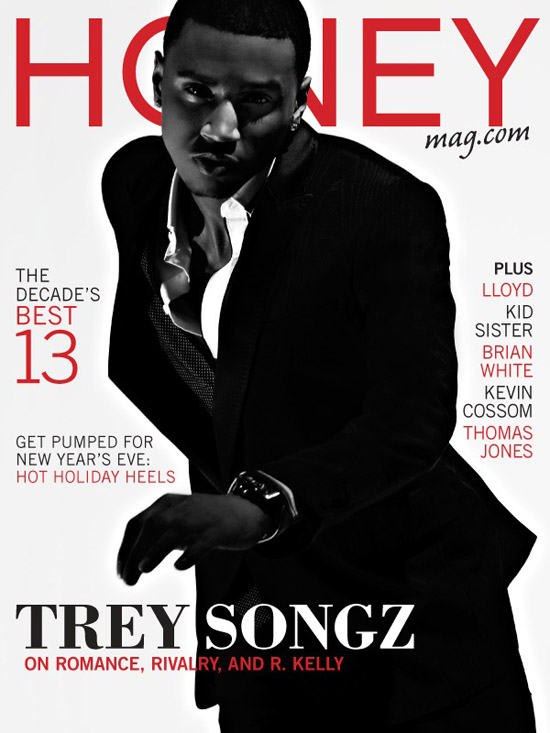 R&B crooner Trey Songz is featured on the cover of the January 2010 issue of HoneyMag.com. Trey talks about why women love him (he says it's his confidence), how he feels about being a sex symbol, how he uses his Twitter to connect with his fans (he currently has well over 500,000 followers!), R. Kelly and much more. Keep on reading for a few excerpts…
Why do women love you?
I'm a lovable guy. You don't think so? I'm confident. That exudes. Women like men who are confident. I'm humble and I was raised by women so I know what women like.

Of all the guys in R&B you seem to be the sex symbol, clearly. We've even compared you to D'Angelo at his prime. What do you think of the comparison?
A comparison to D'Angelo?

Think about his "Untitled" video.
That's the moment he became a sex symbol. Do we know the moment I became a sex symbol? No. There's no significant moment where that happened for me. And there's nothing that I really… maybe when I cut my hair, I don't know. But for me, it's never been something we chased after. The album cover was just showing the new me, showing that I've been working out, showing my hair is cut. If you look inside the packaging it's showing the other side of the evolution where my suits are tailored, where — things of that nature — so, I don't know if I would compare myself to D'Angelo in that way. But I definitely feel it. I definitely feel the sex symbol status.
There's been a trend in R&B, like with The-Dream and Jeremih — their music and production emulates R. Kelly's legacy. But I'm noticing with yours; it's actually the quality of your voice that is reminiscent of R Kelly. How do you take those comparisons?
That comes from me listening to so much R. Kelly. Before I was even thinking to pursue music I would only listen to R. Kelly. That comes from me studying his music. Sometimes our tones are similar and sometimes the inflections I make with my voice is something that he would do, just because it's my subconscious. And that's not something that I try to do, it's just something that is just there. To be compared to who I feel is the King of R&B has never been an insult. I've been compared to R. Kelly since my first album.

Have you heard his latest one? What do you think of it?
I think it's good. I don't think it's great. I don't think it's amazing. It's better than the last few albums he's put out. He has some great records on there. I know I like six off top that I know all the words to right now.

Would you do a collaboration with him?
Most definitely.
Be the first to receive breaking news alerts and more stories like this by subscribing to our mailing list.