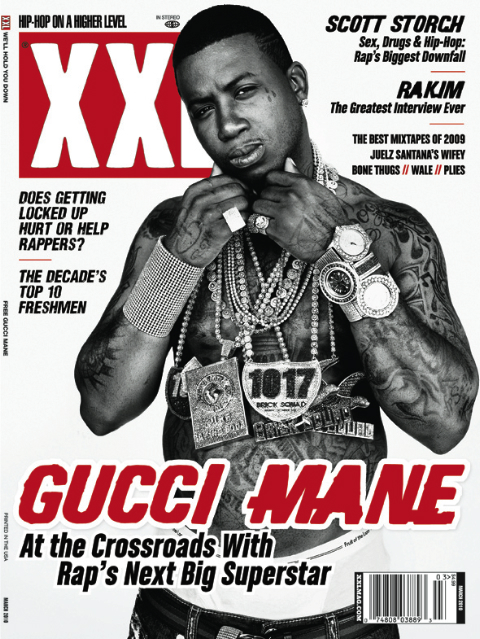 A little jail time didn't stop XXL Magazine from tapping rapper Gucci Mane for the cover of their March 2010 issue, due on stands in February 2010.
"I wasn't really able to tell my story before but I think I am now…" Gucci Mane says from behind a glass window in a visiting room at Atlanta's Fulton County Correctional Facility. "Got closure on a lot of things now."

After years bubbling beneath the surface, Gucci was having the best year ever, racking up hit after hit and high profile co-signs, but that all came to a halt when the rising trap star was put behind bars for parole violation on November 12. Still, the Atlanta MC went on with business as usual, dropping his much-anticipated album, The State vs. Radric Davis, and giving XXL magazine an in-depth interview for the March issue.

Interviewed by XXL's Editor-in-Chief, Vanessa Satten, Gucci shares his thoughts on his recent ascent into the hip-hop big leagues; his newfound popularity; and the first few hours back in the big house. He also discusses his longstanding beef with Young Jeezy, expresses remorse for the mistakes of his past and much more. Look for the full cover story with hip-hop's next superstar in XXL's upcoming March 2010 issue. Gucci's Warner Bros. debut, The State vs. Radric Davis, is in stores now.
Meanwhile, Gucci says he's already signed sealed and delivered the content for the follow-up to The State vs. Radric Davis and will be releasing the album in Spring 2010 (while he's still incarcerated).

"I got an album coming out April 2010," Gucci said. "It's called The State vs. Radric Davis: The Appeal," he said. "Seventeen tracks. It's already recorded, getting mixed and mastered as we speak. I'm dropping a trilogy with The State vs. Radric Davis. When I get out, I'll be working on the third part to the trilogy. The final [will be called] The State vs. Radric Davis: The Verdict. That'll be [in stores] December of 2010."

SOURCE
Be the first to receive breaking news alerts and more stories like this by subscribing to our mailing list.