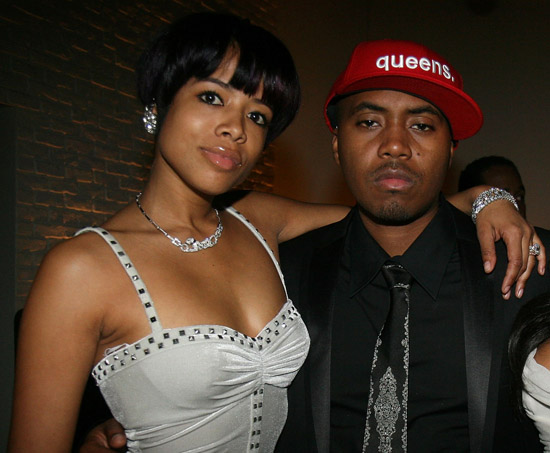 Nas was ordered to pay his his estranged wife Kelis $40,000/mo in a court hearing back in July, but a Los Angeles Superior Court Judge ordered the rapper last week to increase his monthly child-and-spousal support payments to his soon-to-be ex-wife and their infant son Knight. Judge David Cunningham believes Nas can afford to pay a little more per month and bumped his payments up to $51,101 per month.
The judge came to this conclusion after a 2-day court hearing in which Judge Cunningham determined that due to the money the New York MC made in the past few months, he should be required to pay more for support, but should no longer be required to pay for the former couple's LA residence, which is where Kelis and their son are staying.
So Nas comes out ahead in the end because we're sure $11k is a lot cheaper than the expenses of that crib!
While on the stand, TMZ reports that Kelis tried to reconcile with Nas to no avail back in September. She also talked about the difficulty she had making money due to her new child and her lack of work experience outside of the music industry. The "Milkshake" singer even brought up the fact that Nas was releasing two albums next year.
One of the big issues in the case — how much money Nas makes. Kelis testified she knows Nas is set to release two albums next year. The judge asked Kelis what she heard about the albums on TMZ and other newsworthy entities. She said, simply, "Loved it."

SOURCE
Kelis is working on an album herself following her signing a record deal with Will.i.am and Interscope. She told MTV News that the album, inspired by her current divorce situation and the birth of her son Knight, will have a "futuristic disco" sound.
"Pregnancy, it's this insane … you feel like an animal on so many levels," she said. "It's from the level of protection and health and wanting to take care of yourself, to what's happening to your body and feeling this other creature growing inside of you. I'm in love with this little creature I made. It's amazing. How everything finally makes sense — it's like, 'I made this. This is the music, this is the real tune.' No one can prepare you … to be able to write in that moment, it's very validating. I'm so female with mounds of estrogen, [so] everything comes from that perspective. I had to step back to have any other perspective. To be pregnant and writing, it's like, 'This is who I am and this is what I'm doing. And if you don't like it, it's not for you.' "

Kelis recently announced a new record deal with Interscope through the Will.I.Am Music Group.

"Don't hold 'em to it — I'm leaning towards Flesh Tone," she said of the LP's title. "Going back to it being very animalistic. Flesh and blood, sort of — it's life. This is what it is. When everything else is stripped away, you've got yourself.

"Originally I wanted to do something electro," she added about the album's feel. "I kind of went through all these different phases of what I wanted it to be. In recording stuff, it kept changing. Finally it got to this really electronic, dance, really melodic vibe. Everything started to come in that space. I started to fall in love with it. It took a life unto itself. It wasn't calculated. … All the stuff I fell in love with and stuff I was writing fell into that space. It's sort of a new-age disco — futuristic disco."

SOURCE
Be the first to receive breaking news alerts and more stories like this by subscribing to our mailing list.