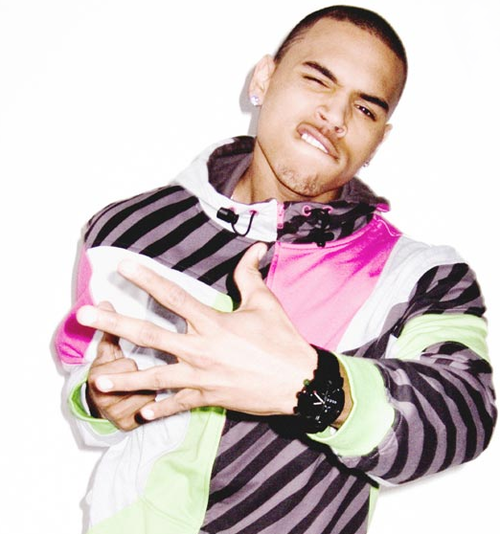 You know, it's a sad day when a celebrity deleting their Twitter account makes headline news over at CNN. If you're wondering why your Twitter timeline is missing its "mechanical dummy," it's because Chris Brown chucked the deuces with a final message to his 170,000+ followers and deleted his account.
All of this comes just days after the 20-year-old entertainer took to his Twitter and issued a series of angry tweets because he was being told that major retailers (like Walmart for instance) weren't stocking his new album Graffiti, which hit stores last week. Following his rant, fans sent him messages confirming the singer's allegations that store managers weren't putting his album out on the shelves so he personally went to a store and saw it for himself.
But according to Billboard, his Twitter rant was "unfounded" because they hit up a few major retailers themselves and received a completely different response.
A survey and store visits find that Wal-Mart, Best Buy, Trans World, Newbury Comics are all carrying the Brown record and sources say that his album received widespread distribution and promotion by his label, Jive Records, and his distributor, Sony Music Entertainment. Jive shipped over 400,000 units of "Graffiti," and also had it positioned in prime stores space at all key accounts, according to sources. In fact, sources suggest that Jive may have overshipped his record, as sales are slow.

'Overstocked'

"Not only am I carrying it, I am over carrying it, because it isn't selling," says the head of purchasing at one large chain. "I wish I could return it." He says the album's first week sales only reached 40% of expectations. At 27-unit Newbury Comics, Carl Mello head of purchasing, echoes that sentiment. "We have it; it's not selling much."
He says the chain never even considered boycotting Brown — an accusation leveled by the artist on Twitter. Brown pleaded guilty to charges in connection with his attack of former girlfriend Rihanna in February, just before the Grammy Awards show. "We never considered not bringing it in," Mello says. "If we stopped bringing in records from every unsavory character that puts out an album, there would be tumbleweed floating around our stores."

When ordering the record, Mello says he took into account Brown's altercation with Rihanna from a sales perspective, only. After saying, "Let's see what has happened with his sales since the incident," Mello reports that "Exclusive," which was issued in November 2007, sold 11 copies chainwide in October 2008, 8 copies in November, 5 units un January, 4 in February, 2 in March, and 0 copies in April, May and June. "From July until now, we have sold 3 copies," Mello adds. "When you see an artist is going to release a new album and then you go back and see these kind of sales, alarm bells go off. You don't feel over confident about bringing in a lot of records."

Nevertheless, "we brought in the new album because you know you are going to sell some," Mello says. "We let the consumer vote on it."

And so far, consumers aren't flocking to stores to vote on behalf of Brown. Sources project that Brown sold about 100,000 units last week, well below the 150,000-175,000 units he was expected to sell. Mello says that the album is probably about the No. 40 best-selling title at the chain.

Even Wal-Mart — which was singled out by Brown on Twitter as one of the so-called merchants boycotting his record because the Wallingford, Conn., store didn't have it in stock — says they are carrying the Brown album. "We are surprised at the comments on Twitter, since all Walmart stores carried the CD since its release, including the Wallingford store mentioned in the post. This store had in fact sold through their copies over the weekend. The majority of our stores are showing today they have copies on hand." Likewise Billboard found plenty of Brown in stock at Best Buy in Union Square and on Broadway by Houston Street, in Manhattan, as well as at the J&R Music World superstore in downtown Manhattan. Jive declined to comment.

SOURCE
Be the first to receive breaking news alerts and more stories like this by subscribing to our mailing list.