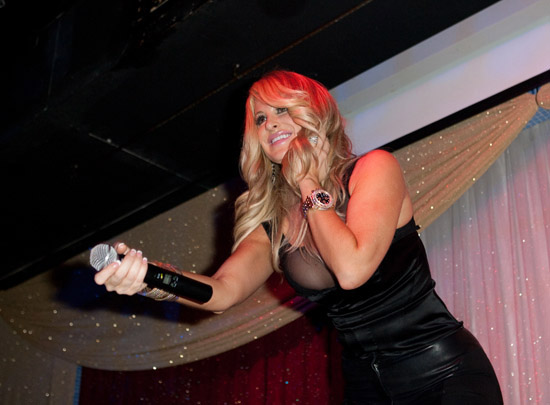 TV personality (and wannabe singer) Kim Zolciak performed Thursday night (Dec 10) at Splash Bar in New York City. Bravo Sr. Vice President of Programmy Andy Cohen was also at the event. Kim is a castmember of the hit Bravo series "The Real Housewives of Atlanta."
Between her performances of "Tardy for the Party," (yes, she performed it twice…) Kim, who recently kicked her rich boyfriend "Big Papa" to the curb, announced that she was with someone and led people on to believe that it was a woman. Sources at the party say a woman, who might be Kim's girlfriend, was with Kim that night and she introduced herself as Annie. The two supposedly were giggling and cuddling backstage.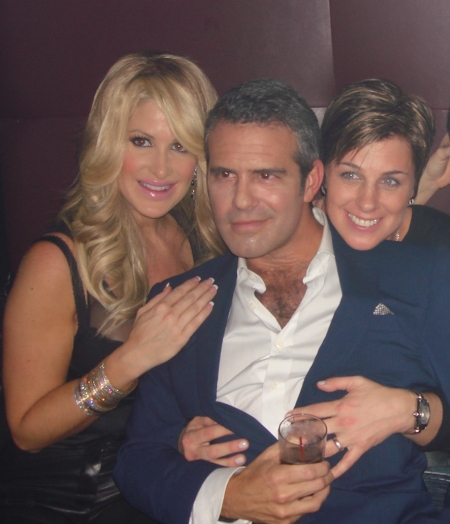 In related news, it seems like both Kim AND NeNe Leakes from the Real Housewives of Atlanta are being replaced in the next season! Word on the sidewalk is that they're both wanting more money and the producers are tired of their demands, so the network is quietly making moves to get rid of them. Continue reading for more on that!
"Things with NeNe and Kim have been intense," a source told the The New York Daily News, "but Bravo feels the show is about the franchise as a whole and won't let one person stop it. Bravo has been taking meetings with some notable and wealthy Atlanta women about possibly joining the show," says the insider. "They're trying their best to keep the process under wraps, but they're gearing up to make a major move in the third season."
One person you don't have to worry about joining the ATL cast of the Housewives franchise is Usher's ex wife Tameka Foster Raymond. All of the current cast members were very adamant about not allowing her a spot on their show, threatening to walk if she were cast.
"Tameka isn't very popular in Atlanta," says the source, who reveals that the 39-year-old was initially in the running. "The producers asked each one of the women how they would feel if she were cast, and they all said that they'd walk. That's the one thing they've been united about."
Fan favorites Kandi Burruss and Sheree Whitfield will most likely return for the upcoming third season of the show. Nothing is confirmed though, but the network feels strongly about the two women and the only thing that would prevent them from coming back would be a personal decision on the women themselves.
"Kandi was a fan favorite last season. Her audience approval ratings were through the roof," the insider explains. "And Sheree's clothing line [She by Sheree] and her catch phrase, 'Who gonna check me, boo?' were definite standouts."
SOURCE: NY DAILY NEWS
Be the first to receive breaking news alerts and more stories like this by subscribing to our mailing list.