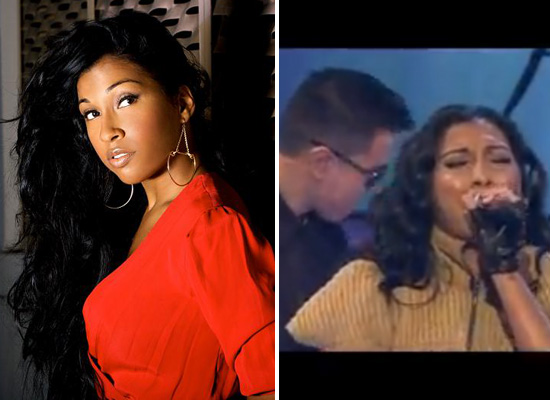 In a recent interview with our friends over at Rap-Up.com, up and coming R&B soul singer Melanie Fiona said that when she found out she was nominated for a Grammy, she was so overcome with emotion that she broke down crying. The Canadian born and raised singer said she was in Miami when her brother called her with the good news.
"I picked up the phone and my brother was screaming at me and I couldn't understand what he was saying," the 24-year-old songstress tells Rap-Up.com. "Once I really understood that I was nominated for a Grammy, I just broke down and started crying. It was the most unforgettable moment."

While sitting in the Manhattan Rocawear offices last Friday, Fiona got emotional thinking about what she would do if she were to take home the golden gramophone for Best Female R&B Vocal Performance for her single "It Kills Me" from her debut album The Bridge. "The thought of winning makes me want to cry…that would be the first thing I would do if I won is cry," she reveals. "Every time people asked me what do you see for yourself in the next five years, I've been saying I wanted a Grammy because I feel like that's a high bar you set for yourself as an artist and you always strive to get there."
Continue reading for more and to check out a video of Melanie performing her latest single "It Kills Me" (+ her interview) on the Mo'Nique Show!

While acknowledging the strong competition in the category with fellow nominees such as Beyoncé and Jazmine Sullivan, Fiona knows there is a reason why her song was chosen. "It's the caliber of women I'm with in the category that is such an honor and makes it a victory already for me," she says. "But I feel like it is the honest emotion that I had singing that record and the story behind it that affects people and makes it a winner. It's something that everyone who has been in love has gone through."

So what does the Universal Motown artist plan to wear on the big night? "I have no idea!" she laughs. "In my mind, it's like every hot dress that I've ever thought about wearing, it has to supercede that by like 10 degrees because this is the dream, this is the Grammys."
MELANIE PERFORMS "IT KILLS ME" ON THE MO'NIQUE SHOW
MELANIE'S INTERVIEW W/ MONIQUE
Be the first to receive breaking news alerts and more stories like this by subscribing to our mailing list.