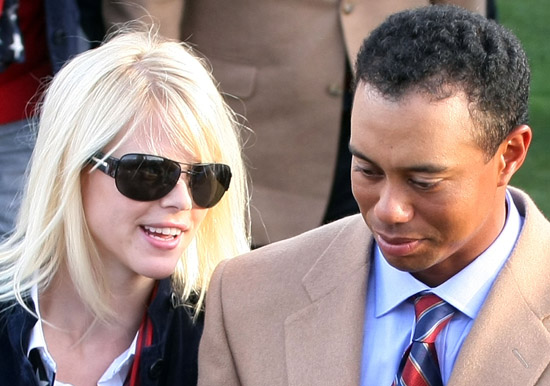 Keeping up with this Tiger Woods scandal is getting harder and harder every day. The latest on the golfer and his wife Elin's very public domestic situation is that they had a "secret" meeting with a mysterious suited man, according to a neighbor who dished the details to TMZ:
We're told Tiger, his wife and the suited man all showed up to Tiger's house in Isleworth around 4:00 PM yesterday. They all arrived in separate cars — Elin in a red Buick, Tiger in a Black Escalade (not that one), and then the suited man in a third vehicle. The suited man left after the 2.5 hour tête-à-tête, but Tiger and Elin's cars are still there at last check. We called Tiger's lawyer to figure out who the mystery man was — no comment.
Continue reading to read up on how much Tiger is paying his wife to stay with him and the 10 women who have come forward claiming that Tiger has had some sort of relationship with them while he's been married…
TIGER AND ELIN WOODS' REVISED ($80 MILLION) PRENUPTIAL AGREEMENT!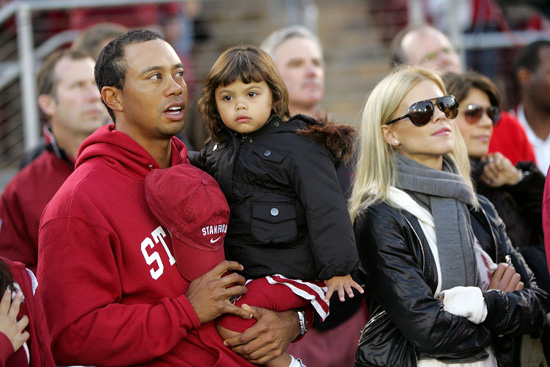 Word on the sidewalk is that Tiger Woods is using his fortune to keep his wife! According to The Daily Beast, Tiger is offering his wife Elin $5 milion if she agrees to stay with him and he's even willing to add an additional $55 million payout to a prenup they signed back in 2004 when they got married, making the total $80 million!
When the couple married on Oct. 5, 2004, at the Sandy Lane resort in Barbados, Elin signed a prenuptial agreement reportedly worth $20 million after 10 years of marriage, not considered a large payout for someone who was already as successful as Tiger by then.

The lawyer familiar with the couple's negotiations told The Daily Beast that Tiger also has agreed to shorten the original prenup to seven years from the date of marriage, meaning it will vest in another two. And the revised agreement provides for a staggered schedule of payments spread out over five years that could be worth upward of $75 million. So for Elin to collect $80 million, she'll need to stay with Tiger another seven years, be a dutiful wife in showing up with him at social events and in public as if they were still the perfect couple, and sign a nondisclosure form that will prevent her from ever telling her story. Even if she lasts only two more years, she'll still walk away with nearly twice what she was entitled to under the original prenup.
10 WOMEN TIGER? … REALLY?! 10?!?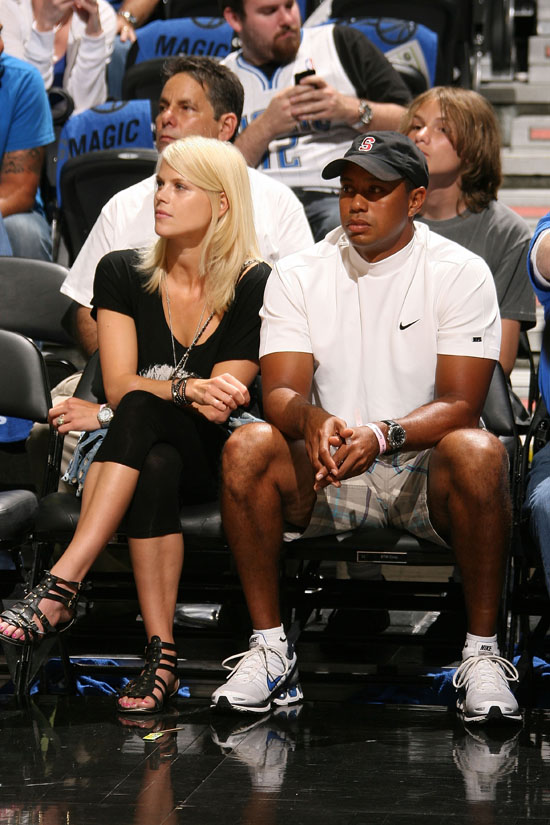 And last but most certainly not least is the number of women who are saying they slept with Tiger! Over the past couple of weeks 10 women have reached out to the media airing out all of the billionaire golfer's dirty laundry. 3 of the 10 women haven't yet been identified. Peep a list of the women and short descriptions below…
1.) Rachel Uchitel. The club hostess was the first of the women to be linked to Woods after the National Enquirer reported that she traveled to Australia to be with Woods during a golf tournament there. So far, she has denied the affair.

2.) Jamie Grubbs. The 24-year-old reality show contestant and cocktail waitress claims she carried on a 31-month-long affair with Woods until his crash last month. She offered a Woods voicemail to prove it.

3.) Kalika Moquin. The 27-year-old club manager from Las Vegas is reported to have had a brief sexual relationship with Woods. She would neither confirm nor deny the report.

4.) Cori Rist. The 31-year-old swimsuit model reportedly met Woods at a Manhattan club last year before they began a sexual relationship that led to Woods flying her out to various secret locations for hook-ups, and her introducing the golfer to her 7-year-old son.

5.) Jamie Jungers. The 26-year-old, who sold her story to a British newspaper, is a former employee of Trashy Girls Lingerie. She said she met Woods in Las Vegas.

6.) Mindy Lawton. The 33-year-old pancake house waitress from Orlando claims she was dumped by Woods in 2007. According to the Post, it was her affair with Woods that was caught on camera by the National Enquirer, when he was snapped dropping her off at her trailer park. The threatening news later led to a Woods Men's Fitness cover in exchange for the magazine's silence about the alleged affair, the New York Post reports.

7.) Holly Sampson. The 36-year-old from Los Angeles is a former porn star, who has starred in such films as "OMG, Stop Tickling Me" and "Flying Solo 2." According to the Sun, she has neither confirmed nor denied her affair with Woods.

8.) Unidentified Alleged Mistress No. 8. A former cocktail waitress from Orlando, Fla. does want to reveal her identity yet, according to attorney Michael O'Quinn. At the time the affair allegedly began, she was 20 years old and met Woods at the Roxy in Orlando, where she was a VIP server.

9.) Unidentified Alleged Mistress No. 9 is reported to be a "sexy" British TV presenter who was single at the time, but is now married.

10.) Unidentified Alleged Mistress No. 10. is reported in a UK paper to be a "sex-addicted cougar."

SOURCE
Damn, who knew ol' goody two-shoes (we guess not anymore!) was rollin' like that! 10 women?! Wow…
Be the first to receive breaking news alerts and more stories like this by subscribing to our mailing list.