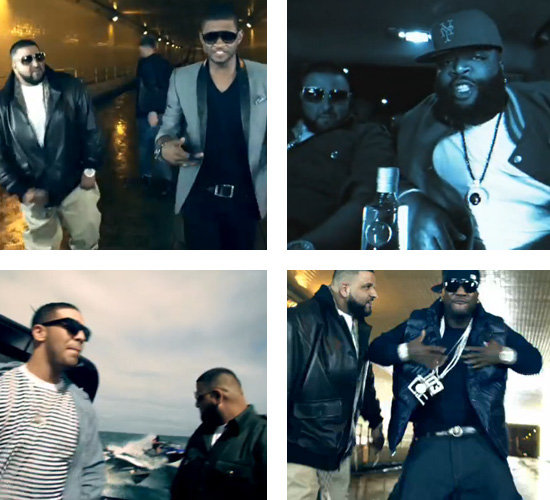 DJ Khaled, along with R&B singer Usher and rappers Young Jeezy, Drake and Riss Ross are "sick and tired of being sick and tired" in their new music video for "Fed Up," Khaled's new single from his upcoming fourth studio album Victory, due in stores in February 2010.
The clip finds the charismatic DJ being chased through Florida by mobsters, with everyone on the song coming to his aid with getaway vehicles ranging from a Maybach to a boat to a helicopter. The Team Khaled mission? Well, besides helping the record-spinner escape, to protect the contents of his special briefcase.

"'Fed Up,' the concept, it's how everybody is feeling right now," Khaled explained. "Everybody is fed up. Everybody has their own ways of being fed up. I called Usher, Drake, Jeezy, Ross, and we made a classic. Weezy jumped on the 'Just Added' version [Lil Wayne does not appear in the video]. It's a record about how everybody's feeling. Superstar lineup. It's a record that's special."

Khaled's other friends, such as Busta Rhymes and Bun B, also make cameos in the video. His latest album, Victory, is full of collabos, with John Legend singing the hook on the title track while Plies, Bun, the Birdman, Akon, Diddy, Nelly, Lil Boosie, Buju Banton, Red Rum and Ace Hood all appear elsewhere. Kanye West has also been in talks to jump on a song.
"I've been embraced by so many people," the Miami veteran explained. "I feel like I'm making great music, timeless music. I make big collaborations, but all my music has a message and all my music is powerful.

"Every new album gets bigger and bigger," he added. "The vibe gets bigger and bigger. I have the opportunity to be on my fourth album. It's a big accomplishment for me. That's why this album is called Victory. It's a deep definition to me. To get to victory, you have to go through a lot of stuff — a lot of struggles, grinds, roadblocks, all types of stuff. It's a big project for me and I'm so excited."

SOURCE
Be the first to receive breaking news alerts and more stories like this by subscribing to our mailing list.