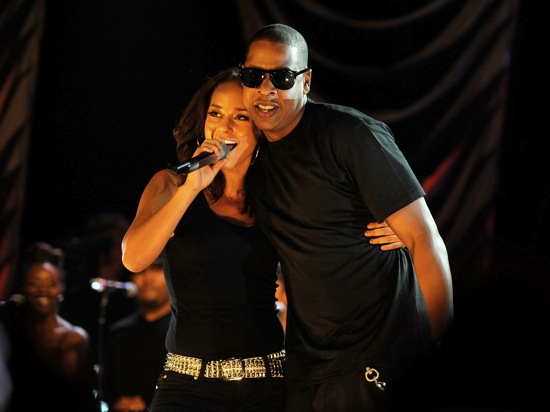 Grammy Award winning recording artist Alicia Keys and hip-hop maven Jay-Z shared the stage Tuesday night (Dec 1) in New York City at the Live World Aids Day Charity Concert Presented by American Express at the Nokia Theater.
Alicia performed material from her new album The Element of Freedom during the World Aids Day awareness concert and she and Jay performed their hit single "Empire State of Mind."
"I know I'm losing control," Alicia Keys sang in "Love Is Blind," the song that started her set at the Nokia Theater on Tuesday night. But she wasn't, not for an instant. Through her set Ms. Keys measured every note, every bit of between-song patter, every motion and every vocal inflection, even when she was making her voice sound tearful or imploring or driven. In a career as one of this decade's most dependable hit makers, that underlying poise has been her strength. Her message, particularly to women, is to endure and prevail. But that same steadfastness has also emerged as a shortcoming — onstage more than in the studio, where the sound of her voice is persuasive.

Ms. Keys writes and sings about heartache and sorrow, usually on the way to overcoming them. She promises devotion and calls for determination through every struggle. Her craftsmanship and equanimity are a comfort, a demonstration of what she counsels. But they are also a barrier. She doesn't let loose.
The concert was a preview of her new album, "The Element of Freedom," due for release Dec. 15, and it squeezed an arena production — videos, large band, a superfluous dance bit — onto the theater stage. Tuesday was World AIDS Day, and the concert was a benefit for Ms. Keys's AIDS charity, Keep a Child Alive; during the show a video screen urged fans to donate via text message. (The concert was streamed live on YouTube, and clips of individual songs are now at youtube.com/aliciakeyssme.)
Continue reading for more pics and videos!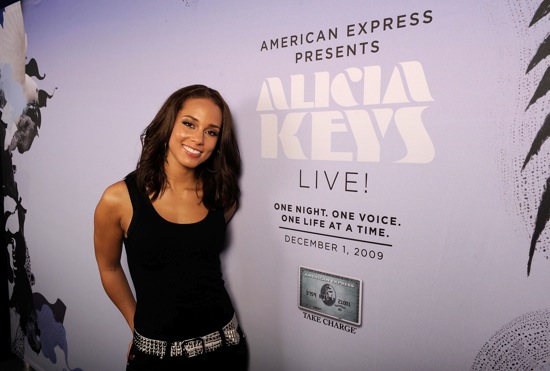 In an era of stars who pose better than they sing, Ms. Keys is the exception: a musician above all. Yet she has been improving her moves. On Tuesday, when she left her piano behind, she strolled easily in her stiletto heels and had frontwoman gestures for every song; hand over heart, finger pointing.

But her best moments were those when she sat at the piano and just sang tunes like "Diary" and a new one, "Distance and Time," a promise to stay true through a separation — perhaps a soldier at war, perhaps a pop tour. "If you have to walk a million miles, I'll wait a million days to see you smile," she sang.
She performed about half the songs on "The Element of Freedom," full of lyrics about breakups and moving on. Like virtually all of Ms. Keys's songs, they are anything but confessional, reaching for the generality of pop and striving to stay hopeful: "I'm gonna find a way to make it without you," she insisted in "Try Sleeping With a Broken Heart."

Where her music once clung to 1960s and '70s soul, Ms. Keys now favors anthems: deliberate, hymnlike melodies that are just waiting for arenawide arm waving. They are impeccable.

But they await some roughness and immediacy, some surprise. Ms. Keys got that with her finale, "Empire State of Mind (Part II)," her take on the current Jay-Z hit on which she sings the soaring chorus. Her new, sung verses were backed by inspirational arpeggios hinting at the E Street Band.
Then the hip-hop beat kicked in, and Jay-Z arrived onstage, to be drowned out by joyful screams as he rattled off his boasts. He was casually arrogant where Ms. Keys had been so careful.

SOURCE
EMPIRE STATE OF MIND (F/ JAY-Z)
TRY SLEEPING WITH A BROKEN HEART
DISTANCE AND TIME
FALLIN'
WRECKLESS LOVE
NO ONE
PHOTOS: GETTY / WIRE
Be the first to receive breaking news alerts and more stories like this by subscribing to our mailing list.