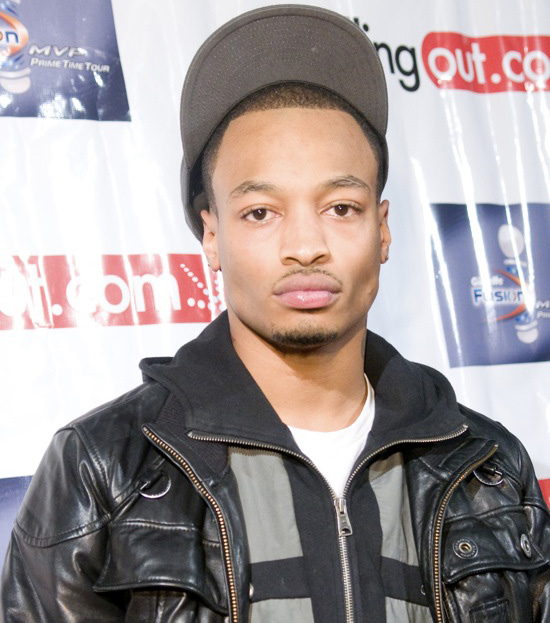 Qwanell Mosly of Day 26 walked the red carpet and posed for pics before making his way into the Lux Lounge in Washington, D.C. for the Gillette Fusion Men of Style Awards last night (Nov 30).
Speaking to MTV, the 21-year-old R&B singer said even though they're not down with Bad Boy anymore, Day 26 and Diddy still show love to each other and the group will still accept professional advice from the hip-hop mogul. And Willie said that now that they're running the show, they'll be handling most of the production on their new songs.
"He's not gone," Qwanell "Que" Mosley insisted. "He's there if he wants it. He's Diddy; we trust [his input]. He trusts us now to move on with our careers. It's kind of like a blessing." The guys plan to handle the production side on many of their new songs.

"We gave you a sample on Forever in a Day," Willie Taylor said of the group's production skills. "If you read the credits, a lot of that is Day26. But we really wanna get in and zone out again, get the formula. We wanna go back to the Pentagons — they were amazing. Jazze Pha is amazing. [Bryan-Michael] Cox is amazing. We're reaching out. Sean Garrett — the Pen. T-Pain. We're gonna reach out. We're gonna spread the wings, but I think the bulk of the album is gonna come from Day26."

"Some artists we wanna work with are Jay-Z, Lil Wayne," Que added. "Eminem is doing his thing. Kanye, Diddy-Dirty Money. We wanna get everybody. Anybody who has any skills, we wanna work with them."
Other folks who attended the Gillette Fusion Men of Style Awards were DeAngelo Redman (from Making the Band 4), Fonzworth Bentley and Miss Maryland Nicole Almodovar. Check out the pics below…
PHOTOS: GETTY IMAGES
Be the first to receive breaking news alerts and more stories like this by subscribing to our mailing list.