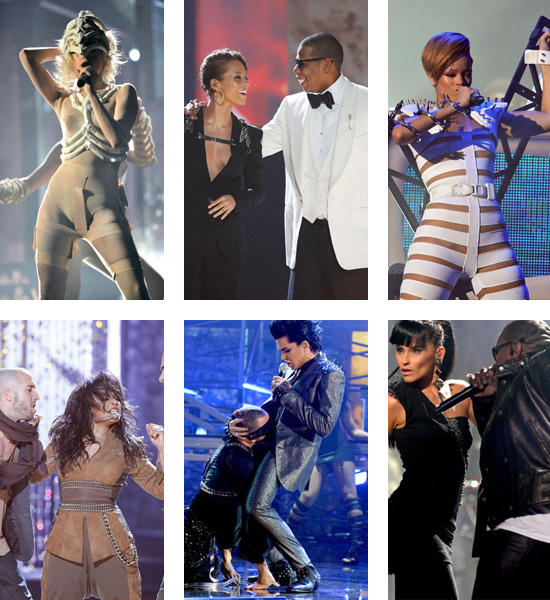 Check out the videos of the performances from Sunday night's (Nov 22) American Music Awards: Lady Gaga, Janet Jackson, Rihanna, Jay-Z, Alicia Keys, Black Eyed Peas, Timbaland, Mary J. Blige and more! All in all, the show was "okay" but nothing really to write home about. It could have been much better but it basically served its purpose, which was to gear everyone up for the upcoming Grammy nominations and the actual Grammy Awards (Feb 2010).
Continue reading for the videos from Sunday night's show!
LADY GAGA – BAD ROMANCE/SPEECHLESS
JANET JACKSON – OPENING MEDLEY
RIHANNA – THE WAIT IS OVA/HARD
JAY-Z & ALICIA KEYS – EMPIRE STATE OF MIND
ALICIA KEYS – TRY SLEEPING WITH A BROKEN HEART
BLACK EYED PEAS – MEET ME HALFWAY/BOOM BOOM POW
JENNIFER LOPEZ – LOUBOUTINS]
SHAKIRA – GIVE IT UP TO ME
KELLY CLARKSON – ALREADY GONE
WHITNEY HOUSTON – I DIDN'T KNOW MY OWN STRENGTH
MARY J. BLIGE – I AM
TIMBALAND F/ NELLY FURTADO & SOSHY – MORNING AFTER DARK
EMINEM F/ 50 CENT – CRACK A BOTTLE/FOREVER
ADAM LAMBERT – FOR YOUR ENTERTAINMENT
CARRIE UNDERWOOD – COWBOY CASANOVA
Be the first to receive breaking news alerts and more stories like this by subscribing to our mailing list.