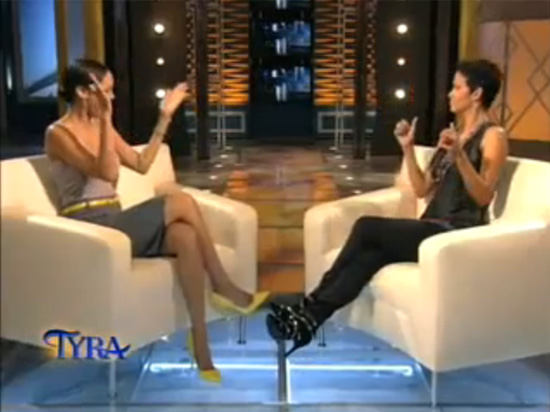 On a recent appearance of the Tyra Banks show, Halle Berry was asked what her favorite curse word was. And it has something to do with the paparazzi and them getting too close to her baby girl. She said she had to get gangsta on a paparazzi one time!
Tyra Banks: "Halle Sweary, what is your favorite cuss word? … Use it in a sentence."

Halle Berry: "I'll tell you what I just said yesterday to somebody."

Tyra: "What did you say?"

Halle: "I said, 'Didn't I tell you don't use no f**king flash on my daughter!!'"
Continue reading for another video when the 39-year-old actress recalls a complete stranger knowing her daughter Nahla before they even realized who Halle was! She says that kind of thing scares her. Read on for her answer to Tyra's question (about 3 mins into the video) about how she feels about the paparazzi taking the privacy away from her family.
Tyra: I've seen your baby because of a paparazzi picture.

Halle: And that part scares me! We were at the San Diego Aquarium, and a woman comes up and… my daughter is playing her little daughter, and the lady said 'Wait a minute, is that Nahla?' And I looked at the woman and she goes, 'Oh my God and you're Halle Berry but I recognized your daughter first!' And I wanted to melt, I was so distraught because that is bothersome.
HALLE BERRY'S FAVORITE CURSE WORD
HALLE TALKS ABOUT THE PAPARAZZI AND HER PRIVACY
Be the first to receive breaking news alerts and more stories like this by subscribing to our mailing list.