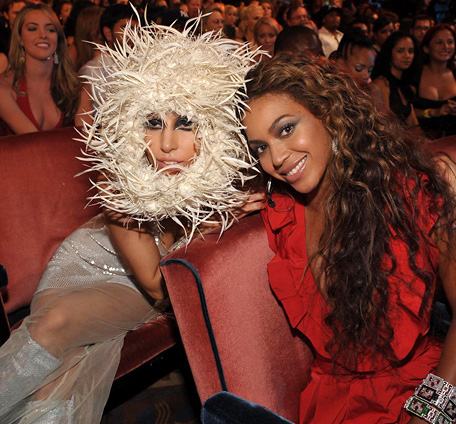 BEYONCE F/ LADY GAGA – "VIDEO PHONE" REMIX
[audio:beyonce-ladygaga-videophone.mp3]
LADY GAGA F/ BEYONCE – "TELEPHONE"
[audio:ladygaga-beyonce-telephone.mp3]
Both Beyonce and Lady Gaga are gearing up for their takeover and have released their collaborations with each other. While we're definitely feeling the "Video Phone" Remix, it isn't much better than the original version. The extended intro and outro work the the track and Gaga's verse was "okay." We think she could have come a bit harder but then again she was up against Beyonce and let's face it, "Video Phone" is Beyonce's song and it fits Beyonce.
But we definitely can see the two making a hot video to this and in just a matter of weeks, we will see the final result. It is being rumored once again that the video will premiere on November 23rd to go with release day of both Lady Gaga's re-release and Beyonce's DVD/CD combo. It was actually supposed to premiere last week, but something happened and they pushed it back to the 23rd.
Check out the donwload links for "Video Phone" and "Telephone" after the break!
"Telephone" is definitely the better song of the two. It's a signature Gaga pop/dance track and Beyonce definitely slays her verse – she has a completely different voice than Gaga and her swagger just adds so much to the song! She's a nice addition and knowing Gaga, the video to this will be one to look forward to. This is the official second single after Gaga's "Bad Romance."
Be the first to receive breaking news alerts and more stories like this by subscribing to our mailing list.