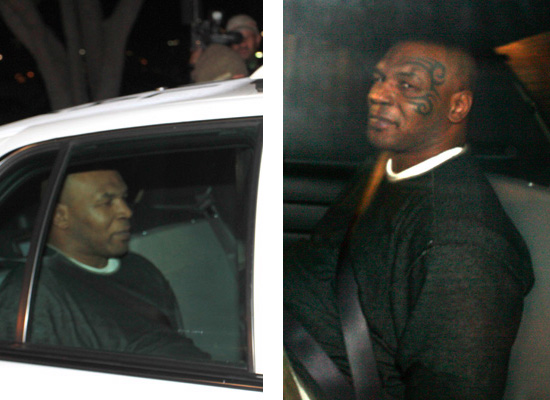 A paparazzo thought it'd be a good idea to antagonize ex-heavyweight championship boxer Mike Tyson at a ticket counter at Los Angeles' LAX airport Wednesday (Nov 11). So he went through with his little plan and he ended up lying on his back on the floor bleeding. And then he and Mike BOTH got arrested.
TMZ has learned Mike Tyson has been arrested at LAX airport for battery after a bloody confrontation with a paparazzo outside the United terminal. We're told Tyson punched the pap in the face and there is blood everywhere. We're told Tyson was at a ticket counter at the United Airlines terminal when the incident occurred. The photographer got punched in the face, hit the ground, got up and began walking, leaving a trail of blood. An LAPD spokesperson said the photographer suffered a minor laceration to the forehead.

Someone at the scene tells TMZ … the photographer got very close to Tyson before the boxer struck him. Our says there's blood on the ground and Mike was taken away in a squad car. We're told an ambulance was dispatched at 4:39 PM to LAX and the paparazzo was transported to a local hospital.

Cops say Tyson and the photographer performed citizen's arrests on each other — both are expected to be booked for misdemeanor battery. Cops also said witnesses backed both stories … so that could get interesting. If Tyson is prosecuted, given that he's a former boxing champ, the charge could end up being assault with a deadly weapon.
It probably sounded like a good idea in the beginning, but we're sure  the thought of "oh sh*t I don't think I shouldn't have done this!" came across the photographer's mind as Mike delivered that blow to the face.
According to his rep Tammy Brook, Mike was traveling with his wife and his 10-month-old daughter when he was allegedly attacked by the photographer. And when he sonned the reckless photogographer he was only acting out in self-defense to protect his family. He was booked for misdemeanor battery and was shortly released on his own recognizance after he posted $20,000 bail.
This incident comes just 15 days shy of the 6 month anniversary of his daughter's death. She was accidentally strangled by a treadmill cord back in May of this year.
Be the first to receive breaking news alerts and more stories like this by subscribing to our mailing list.