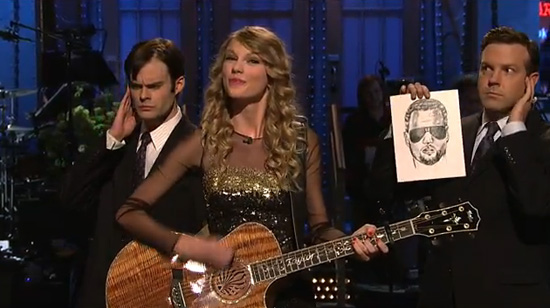 Ever since Kanye West temporarily stole her shine at this years VMAs, it seems like Taylor Swift's stock has shot up a bit. Hell, we're not even going to lie. She's generated some interest amongst us over here at Gossip On This too. Let's be real now. Trust and believe if Mr. West hadn't snatched that mic out of her hand a lot of people who are checking for her today wouldn't even be given her a second thought right about now.
The young country music/pop star hosted NBC's Saturday Night Live over the weekend and opened up the show with a pretty funny song she wrote called the "Monologue Song (La La La)." In the short melodic parody, Swift took some shots at her ex boyfriend Joe Jonas, "douchebags who cheat on her," and her new friend (sarcasm, people) Kanye.
I like writing songs about douchebags who cheat me, but I'm not gonna say that, in my monologue / I like writing their names into songs so they're ashamed to go in public, but I'm not gonna say that, in my monologue

You might think I'd bring up Joe, that guy who broke up with me on the phone, but I'm not gonna mention him, in my monologue / Hey Joe, I'm doing real well! Tonight I'm hosting SNL, but I'm not gonna brag about that, in my monologue

You might be expecting me to say something bad about Kanye, and how he ran up on the stage and ruined my VMA monologue… / But there's nothing more to say 'cause everything's okay, I've got security lining the stage, it's my SNL monologue
Taylor got jokes! LOL… Continue reading to peep the video!
Be the first to receive breaking news alerts and more stories like this by subscribing to our mailing list.