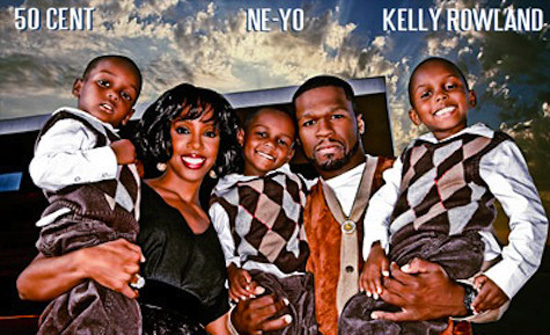 Rapper 50 Cent recently premiered his brand new music video for the latest single off of his new album, Before I Self Destruct. "Baby By Me" features a hook sung by R&B singer/songwriter Ne-Yo and the video stars R&B singer and former Destiny's Child member Kelly Rowland, who plays 50's love interest and baby mama.
A lot of folks raised their eyebrows when it was announced that Kelly would star in the clip, but we see no problem with her accepting this offer. We're in a recession. It's not good business to turn down money! And we hear 50 Cent begged her any way. Who can say no to someone begging to give you money???
He says he bumped into her in Los Angeles and he knew right then and there he wanted her for his new video.
"I actually ran into her, I said, 'Wow! It'll be great if I could get her to come tomorrow [for the shoot]'," 50 Cent explained. "Kelly was getting ready to fly back to Miami. I was lucky enough to catch her. I kinda begged my way into her doing it. I didn't want to do the normal video situation, where you have the vixen or somebody no-one knows from anywhere. I think it intensifies the whole song."
A pretty decent investment for both parties wouldn't you agree? Continue reading to peep the new video!
Be the first to receive breaking news alerts and more stories like this by subscribing to our mailing list.