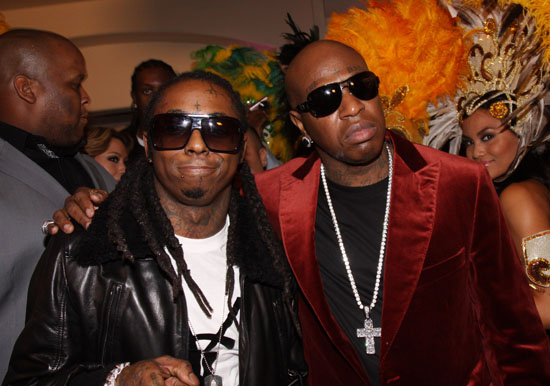 A Florida man named Thomas Marasciullo filed a copyright infringement lawsuit Friday (Oct 31) in a Manhattan federal court against rappers Lil Wayne and Birdman. The suit was also filed against their record label and various music distribution outlets.
Marasciullo is looking for recognition in a voice over that Wayne used back in 2006. The lawsuit against Cash Money states that Thomas recorded some Italian styled word arrangements and Lil' Wayne and Birdman used them without permission (or pay) on a track entitled "Respect."
AP reports: "The gold-selling "Like Father, Like Son" hit the top of the R&B/hip-hop album chart. Several short tracks that Marasciullo says he wrote, recorded and copyrighted — including "Loyalty" and "Respect" — feature a man's voice delivering mob-movie-flavored repartee.

Among the remarks, from "Loyalty": "The main name in this game is respect and loyalty. Family is a big thing. When we do this kind of business, everything is with respect." The lawsuit says Marasciullo's recordings were used in four tracks on that album and five on "5 (Star) Stunna."
Marasciullo discovered his voice had been used when his daughter was trying to purchase an Aretha Franklin ringtone entitled "Respect" and they came across Lil' Wayne and Birdman's version. According to the lawsuit, Marasciullo's son ended up being involved in the case when he was fired from a recording engineer job at Cash Money Records after the father started demanding payment.
In the past two years Cash Money Records has risen to become one of the top selling hip-hop record labels with one of rap's most successful artists Lil' Wayne. But it seems like Mr. Carter has been spending most of his time in the courts these past few months and he will be behind bars for the majority of the year 2010 for an illegal weapons charge, which dates back to 2007.
Be the first to receive breaking news alerts and more stories like this by subscribing to our mailing list.