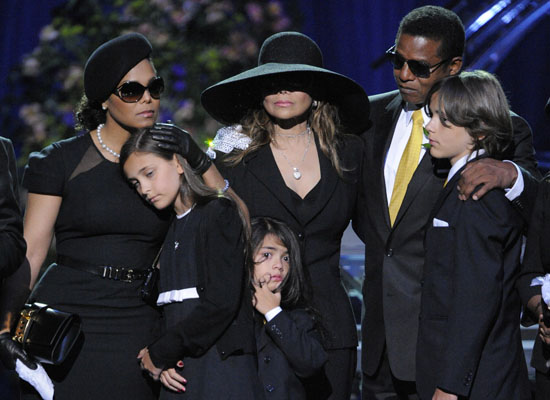 LaToya Jackson says her nieces and nephews are taking their father Michael Jackson's death pretty hard; so hard that the three of them are going through therapy to cope with their loss. She even mentioned how heartbroken Paris is because she'll never be able to see her daddy perform live in person.
"Paris thinks and talks about her father all the time. She's doing very well, writes a lot and she wears his shirts every day. They still smell of him and it helps her feel close to him. Her bedroom is covered in posters of Michael and she watches tapes of him all the time. After he passed, the kids went up to the house to get whatever they wanted. Paris took anything with a picture of her father on and brought it back to her new room at my mother's house. She was so upset that she would never see her father on stage. She said, 'Now I'll never get the chance to see Daddy perform live.'
"Prince just doesn't want to speak about it. He won't even watch the DVDs – he just walks right past the TV. It's too soon, too touching. I do worry about him very much.

"And Blanket is just a very sad, shy little boy. He cries – he really does cry. It's so painful for him. No one can bring his daddy back and it hurts so much. They all go to therapy and I truly hope Prince especially will be able to open up."
She also said she and her family will be keeping up with Michael's tradition in celebrating Christmas, despite his mother Katherine Jackson's objection to celebrating the holiday due to her Jehova's Witness religion.
"We grew up Jehovah's Witnesses and so didn't celebrate Christmas. But I think it's very important that Michael's children celebrate it because that's what he did with them. I want them to continue to have that. I've spoken to my mother about Christmas and she said she will be celebrating."
Be the first to receive breaking news alerts and more stories like this by subscribing to our mailing list.