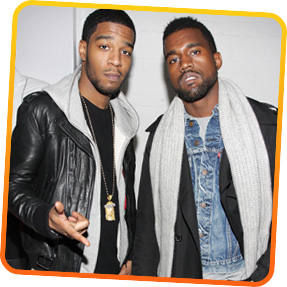 Mixtape circuit rapper turned rap star Kid Cudi has taken it upon himself to tackle some of the public's crazy rumors regarding his mentor Kanye West. The word on the sidewalk is that West has taken refuge in an Indian ashram … or that he's being pressured by those close to him to check into rehab. It all depends on which rumor you choose to believe/feed into.
"All that's definitely false. I mean … rehab for what? Being awesome?" Cudi said while speaking to MTV News. "We talk every once in a while. Like I said, he's like a brother to me, I worry just as much as the next person, but when I say Kanye is cool, believe me, Kanye is OK. He's a strong dude. I mean, we've seen him grow from College Dropout to now … the things he's dealt with, the things he's been through. He's a strong dude."
And until Kanye is ready to step back in the limelight this young star will proudly carry the torch in being the opening act for Lady Gaga's "Moster Ball" tour.
"I didn't get his blessing or anything, I just agreed because it'd be an honor. From what I heard, Kanye backed out from the tour because he wanted to work on something — maybe a project — or just wanted to take some time off. And ain't nothing wrong with that. It's not like he got fired, and I was like 'I'm taking your job!' It's like, 'Ye fell back, and I was like 'OK.' "
We wish Cudi the best of luck with this upcoming tour and we're definitely praying for our boy Kanye! He may make us shake our heads every now and again, but he's still a dope artist and person! He's just got some internal issues going on that he's going to have to take some time off and work on.
Be the first to receive breaking news alerts and more stories like this by subscribing to our mailing list.