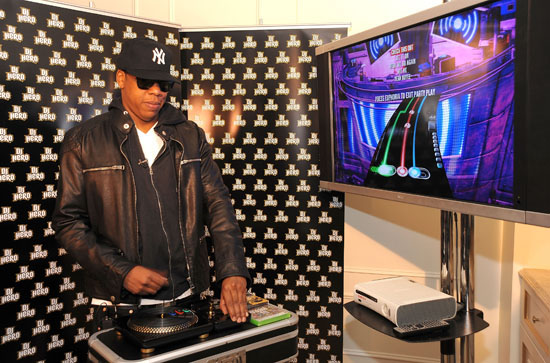 Rapper Jay-Z showed off his DJ-ing skills at a press conference announcing the official launch of DJ Hero at the Plaza Hotel Monday (Oct 26) in New York City.
DJ Hero, a follow up to the popular "Guitar Hero" video game series, made its big debut in stores nationwide today with a price tag of $120.
Jay-Z's name is behind the deluxe "Renegade Edition" of the game, which is a 2-CD set featuring Jay's greatest hits on one disc and Eminem's on the other. The deluxe edition also comes with a stand and carrying case.
Jay-Z seemed appropriately amped about the in-game blend of Em's "My Name Is" and his own "Izzo (H.O.V.A.)," which he described as clever and his favorite in the soundtrack. When asked about his favorite song that wasn't his own, he joked, "Does such a song exist?"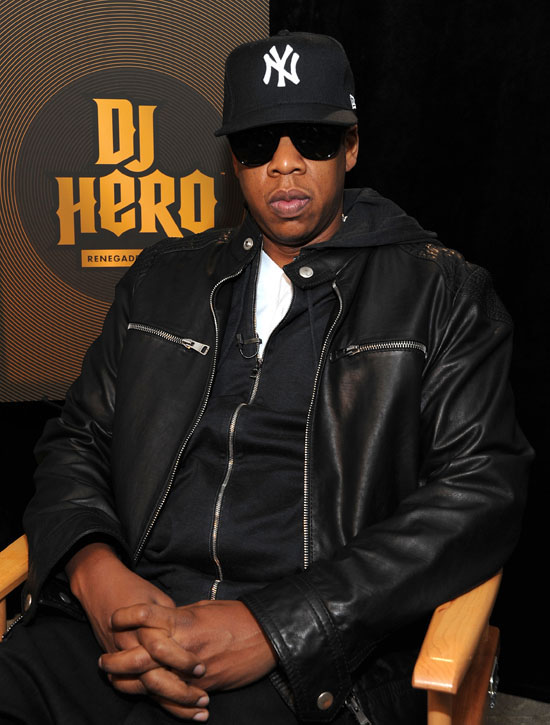 Like many of the musicians who appeared on Guitar Hero, Jay-Z sees DJ Hero as a great gateway for kids to begin performing music for real. In fact, Jay-Z seems to be already taking some musical inspiration from the game himself. "I think after a year with DJ Hero, I'm gonna start DJing parties like Q-Tip and all them," he said. "I'm gonna work on this for a year, then I'm gonna get me a new Serrato set… Then I'm gonna find out who makes the most as a DJ. I'm gonna charge double. I'm gonna tour bar mitzvahs, weddings…"

To get lots of practice, Jay-Z promises to have DJ Hero set up in his dressing room at every stop of his upcoming tour with N.E.R.D., Wale and J. Cole. He promises the tour will be a culmination of everything he's learned over the years as a performer. "I'm the shit," he said. "I used to be a horrible performer because I'm not really an animated guy. I don't really move around, so I had to figure out a way how to talk to people in compact movements, all the while being entertaining. Bono doesn't move around but he's a powerful performer, he knows how to exaggerate his movements. I don't know if he moves anywhere, but he's a dynamic performer."

SOURCE
Be the first to receive breaking news alerts and more stories like this by subscribing to our mailing list.