The New York Times has a preview on the upcoming movie "Precious" directed by Lee Daniels (producer of Oscar-winning film "Monster's Ball"). The movie stars Mo'Nique, Paula Patton, Mariah Carey, and newcomer Gabourey Sidibe, pictured above on the cover of the Times. The article explores not only the story of Precious but also process that it took to make this film. From having studios reject the story to casting Gabourey Sidibe and Mo'Nique as her "demon" mother. The article also goes into the inspiration behind the film. Below are some quotes that struck us and a link to the whole article. It is well worth the read!
As the script was being written, Daniels began to figure out the financing of the movie. "Getting Sapphire's permission was only half the challenge," Daniels explained. " 'Shadowboxer' hadn't done so well, so I found myself back at Square 1. It was very, very hard to get financing for 'Precious.' All the studios said no. They didn't want to make a film about a 350-pound black girl who is abused. Everybody kept saying no. My whole life was no. It was just a bunch of nos."
[Lee] Daniels says that he was a victim of abuse, that he was beaten by his father, a policeman. "He wanted Lenny to be tough," Daniels's Aunt Dot, who is his father's sister, told me. "Leonardo is Lee's given name, and we all call him Lenny. I think Lenny was gay from the time he was a baby, and his father saw him walking and acting real feminine, and he wanted Lenny to be tough. He tried to get him into boxing. He was verbally cruel. He cracked the whip."

"Precious" is a world without glitz, glamour — or, for the most part, men. Daniels convinced his actresses to leave their vanity behind. "I asked Mo'Nique to grow a couple of pimples," Daniels recalled. "And I asked her not to shave under her arms, and she went there for me." Mariah Carey's role was originally offered to Helen Mirren, who had scheduling conflicts. Carey and Daniels are close friends — he calls her Kitten, and she calls him Cotton — and he offered her the part on the condition that she show up at the set alone (no entourage) in a taxi (no limo) and freshly scrubbed (no makeup). "People say to me, 'You are so ugly in this movie,' and I take that as a compliment."

After winning three awards, "Precious" was finally bought by a distributor. "I had shown the movie in L.A. to my manager, and he didn't respond positively," Daniels said. "My manager, who is white, said, 'I'm sorry, but I don't think anybody is going to see this movie.' That man is no longer my manager."
Click here to read the whole article and expect a review of "Precious" when it hits theaters November 6th.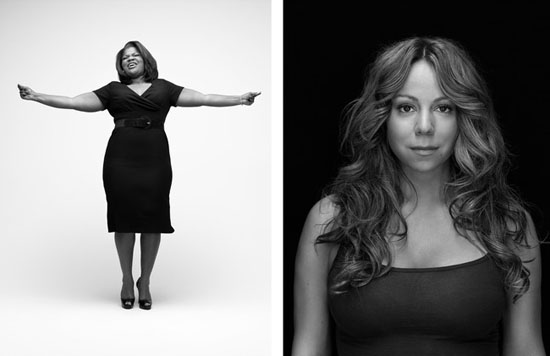 Mo'Nique, left, plays the mother in "Precious." Mariah Carey, right, plays the welfare caseworker.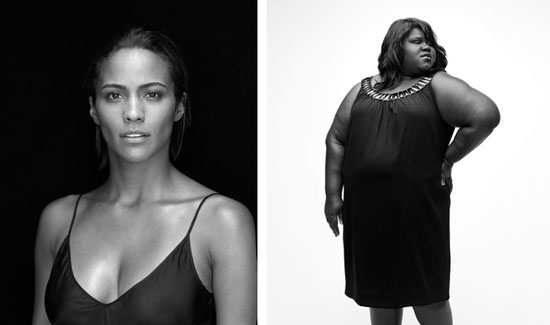 At left, Paula Patton, who plays the teacher in Precious. Gabourey Sidibe, right, plays the title character.
Be the first to receive breaking news alerts and more stories like this by subscribing to our mailing list.