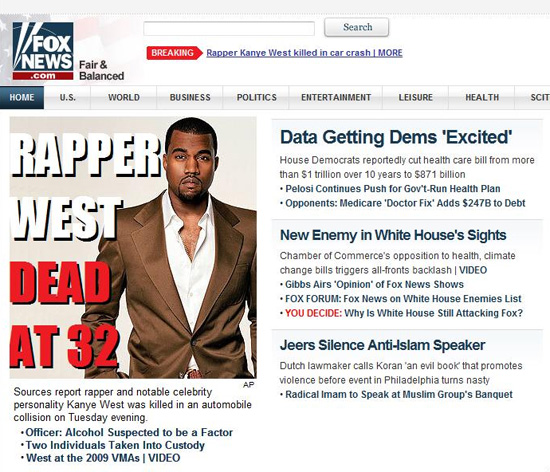 "RIP Kanye West" became a trending topic on Twitter (and Google) earlier this week after a hacking organization known as 4Chan hacked into credible news websites, including Fox.com (as seen above) and began spreading a story about Kanye West dying in a car crash Tuesday (Oct 20).
Kanye's girlfriend Amber Rose immediately came to her man's defense via her Twitter, saying that she didn't find any humor in continuing to spread word that Kanye had died, even though it had been made clear that he was alive and well.
'RIP Kanye West' topic is not funny and it's NOT TRUE! He has people like myself and his family that love him very much. … It's in extreme poor taste to have that as a trendy topic. It's totally disrespectful to make up a story like this we're all human … and we all make mistakes and to say someone died cuz of a mistake is ridiculous. You wouldn't want someone to say that about you."
The fake news story claims that "a bizarre car crash in Los Angeles involving two luxury cars early this morning [left] rapper Kanye West dead, a second injured, a third arrested for gross vehicular manslaughter and a fourth person was detained by police. A Los Angeles Police Department officer witnessed the wreck and saw a red Ferrari and a white Porsche 'spinning out of control' on Jamboree Road between Bison Avenue and East Bluff Drive."

The story goes on to provide a seemingly detailed account of the wreckage and injuries, complete with quotes from an LAPD lieutenant on the scene. It's possible that it was timed to exploit the attention West got earlier this week when the bizarre short film called "We Were Once a Fairytale" he created with "Where the Wild Things Are" director Spike Jonze, was briefly posted on West's blog, then taken down with no explanation.

The fake death reports are just the latest to spread like viral wildfire this year, following on the heels of similar rumors about celebrities Jeff Goldblum, Matt Damon, Natalie Portman, Emma Watson, Justin Bieber, Lil Wayne and Miley Cyrus.

SOURCE
Check out the "We Were Once a Fairytale" short film below!
Be the first to receive breaking news alerts and more stories like this by subscribing to our mailing list.