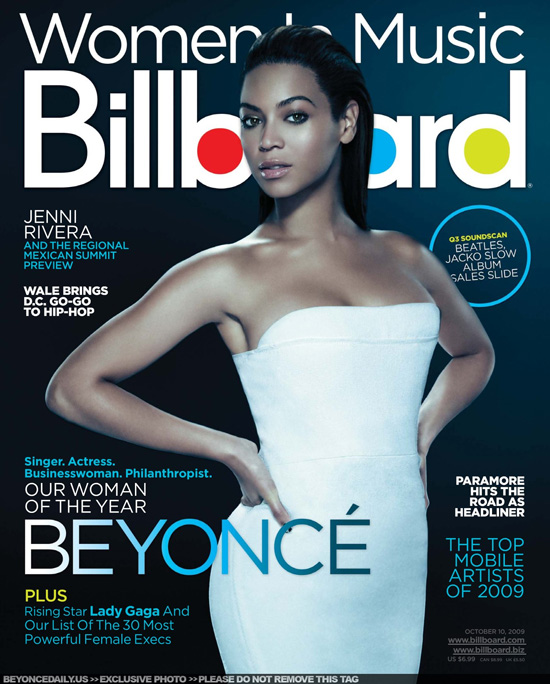 Beyonce is currently Billboard's "Woman of the Year" (story) and she's featured on the cover of the latest issue of their magazine. In the issue, she reveals her secrets on balancing her personal life and her uber busy professional life, as well as her philanthropic efforts and the future of the "Beyonce/Sasha Fierce" brand.
The average person can't keep up your pace. How do you it?
I'm an all-or-nothing type of woman. Either I'm doing absolutely nothing and relaxing — reading a book, sitting by the ocean and not answering any questions — or else I'm hands-on and giving 100%, working really hard.

I was just on vacation for three weeks after touring for a couple of months. I have to schedule time to rest, rejuvenate and get inspired to work again. Now I'm definitely rested and thank God I had the rest — that's the only way I would be able to get through a week like this. After three weeks without giving any answers or approvals and no performing, I came back like, "Yes! I'm ready to work!" [laughs]

How do you flip the switch from Beyoncé to Sasha Fierce on tour?
It's a lot easier than it used to be since I've put so many hours into performing; I can make the transition from Beyoncé to Sasha Fierce really fast. I don't have any crazy rituals beforehand. I get in maybe two-and-a-half to three hours before each show. I do my makeup on tour myself and get my hair done. Then we all come together, say a prayer and do a little stretch. I also do meet-and-greets during which I meet a lot of my fans. I usually meet children from the Make a Wish Foundation. I've basically given them an open invitation whenever anyone wants to come. That's always a highlight of the day for me.

On my days off from the tour, I do a lot of sightseeing. I love to visit churches and museums all over the world. The architecture in America is amazing but in Europe, there's so much history. I also started riding a bike on my days off with others like my assistant and stylist. It's amazing how I'm able to ride around on a bike. People kind of see it's me but since I'm on a bike, they think, "No, it's not her." And by the time they realize it's me, I'm already gone. It's great to do something normal every day. It keeps me grounded.

What do you do to maintain your tour stamina? I heard a rumor that you run on a treadmill in heels and sing.
[Laughs heartily] No, I don't run on a treadmill in heels. That's a bit extreme. But I do practice my choreography in heels. And I have a rule that when I have my heels on, everyone has to have their heels on too. Sometimes the dancers are like, "Oh, God, we hope Beyoncé comes in late," because I'll go all day. And in the end, I'll have blisters and my toes will have bruises. It's really hard sometimes. I still do all the boring things that everyone else does in regular workouts like squats and the treadmill. But I mainly get in shape from doing the choreography during those long 12-hour rehearsals for two months before a tour.
Were you surprised by the immense popularity of the "Single Ladies (Put a Ring on It)" video?
Out of all my videos, it was the least expensive and took the least amount of time. And it ended up being the most iconic. I absolutely didn't expect that — I don't think anyone did. But I knew exactly what I wanted to do: Keep it simple. I've done so many things in videos with different hair and wardrobe changes, different sets and lights. I just wanted to keep this one really minimal. And once we got on the set, it was like, "Wait a minute. This is something special."

I'd seen this 1969 video [featuring Gwen Verdon], this one take of amazing Bob Fosse choreography set against a white background. And I thought, "Wow, despite all the technology we have now, wouldn't it be great to just strip it all down — without a bunch of different camera shots and cuts, without any hair and wardrobe changes — and make it all about the performance?" We had exactly 12 hours to film that video. We did it after shooting "If I Were a Boy," so I used the same director and same crew, renting out a studio in New Jersey. From the black leotards to incorporating some of Fosse's 1969 choreography into our modern choreography, it was just a conscious effort at keeping everything simple.

Outside of music, you're committed to several charitable causes. What attracted you to these particular organizations?
I'm like everyone else. There are certain things I'm passionate about that are close to my heart. I'm so inspired by the children in Make a Wish. It gives my life a way bigger purpose when I know I can bring someone joy, especially someone in a hospital whose childhood is basically sacrificed. And their families are sacrificing too. After being in hospitals, dealing with needles, medicines and all the physical and mental pain these kids and families go through…for me to know that I can take them away from that is very important.

Ever since I was 9 years old, I've been working with my pastor to help the hungry and homeless. So on every tour, I've done something to help fight hunger. And this time we were able to provide 3.5 million meals — that's such a huge accomplishment. I'm grateful to work with General Mills and Hamburger Helper and be a part of something on such a large scale as Feeding America. I'm just so surprised at how many young people came to the concerts with canned goods and were concerned about this cause. They helped make this happen. It wasn't me.

Our family charity, the Survivor Foundation, is still growing. Then there's GEMS [Girls Educational and Mentoring Services]. I saw something about it on television and wanted to help. It's real important for people not to judge. That's why I sit down and talk to these ladies about what inspires me to be strong, and they inspire me as well. To talk and cry with these ladies, to hug these ladies and invite them to the shows to hear songs about empowering women to set their own standards in relationships and build self-esteem. Those are things I can share with these young women. These are all things that have something to do with my purpose in life.

And you're just as busy on the entrepreneurial side, dating back to your association with L'Oreal.
I have worked with L'Oreal since I was 18 and it continues to be a great relationship. And with the clothing line that I started with my mother [Tina Knowles], I'm still making sure the brand is true to what I like and what I think my fans will like. Making it affordable for them was very important. At my concerts, we've offered seats for $10 so that people who can't afford it can attend.

I don't realize all that I do until I do interviews like this. And then I'm like, "Oh, my God, how is this possible?" But I usually break things up and focus on one thing at a time. It is a lot and thank God I love it, because I don't know how else I would be able to do it. You just make it happen.

Something else that's about to happen is your new Coty fragrance. Can you give us a sneak preview?
I've been partners with and have endorsed different fragrances. But this is my first time developing my own fragrance. I've spent over a year having meetings, working with the perfumeries. It's been really interesting. I'd done a little of that in the past, approving a couple of things here and there. But I've been a part of this from ground zero. We've gone back and forth and back and forth over and over again to get the perfect fragrance. Everything I love, that's what this fragrance is. Fragrance makes me feel sexy, so I want my fragrance to be sexy and seductive.

My favorite color is gold and that's also being incorporated into the project. I grew up playing with my mother's perfumes and love antique bottles, so I wanted my fragrance to have this antique feeling. The bottle looks like a piece of art. I can't reveal the name yet, but it comes out early next year. I've already shot the commercial.

Have you lined up your next acting gig yet?
I did two movies last year, which was hard because I had the album and a tour. I'm on tour right now until March and I'll be going back and forth for some of the award shows. So probably next year after the tour something may happen. I've gotten a lot of scripts and out of those there are 10 that are very good. So I have to pick the one I really love.

All of the work I've put into my films has paid off because the type of scripts I'm getting now has completely changed. I've always wanted to do something darker and more dramatic because I'm much better at drama than anything else. I don't think anyone knew that until I played Etta James; people could see my range. And then I did the other movie, "Obsessed." It was so much fun, especially the fight scenes. I fell in love with doing those stunts. That was my first time ever doing anything with action in it. Eventually, I would love to do something with a little more action in it.

I'm not in a rush because acting for me is fun — something I do because I enjoy it. I don't have to do it. So I'm going to be patient and find the right film to work on next year or whenever it works out.

Is music still as much fun for you as it was in the beginning?
The truth is I really love what I do. I live for it. I've invested so much of myself in my career that I cherish it. I've worked too hard to do something to damage what I've basically dedicated my life to.

I still definitely get a high every time I get onstage. But it's not just the performing. It's also coming up with creative marketing ideas and doing cool collaborations, like my fragrance. I love everything about this.

What else is on your to-do list?
I'm interested in a lot of different things. I'd like to get involved in videogames since I really love Wii Fit. I think it would be a great idea to incorporate choreography because for me my workout is way more fun when it involves dancing as opposed to running on a boring treadmill. So I would love to do some kind of fitness game but incorporate dance and performance into it. I think a lot of women would enjoy that.

I also want to continue to produce films — even if I'm not in them — as well as a documentary on my life. Actually, I'd like to do a film loosely based on my father's [Mathew Knowles] childhood and school years. He's had an interesting life. But that will probably be in a couple of years.

Is there a chance you'll start your own label?
Yes, eventually, when I have time. I'm doing so many things, I have to slow down a bit so I can focus. [laughs]

Have you thought about taking a longer break after this tour?
I think after maybe a month or two months, I'd be really bored. But I don't see myself working this hard for the rest of my life. It's just too much to do forever. I thank God I started touring and building a fan base when I was really young. So now if I took off a couple of years, I think I'd still be able to come back, go on tour and do records. I'm still a young woman.

What sparks your creative vision?
I've always tried to pick songs and singles that were a part of pop culture, a part of things that people are passionate about and want to talk about and debate. "Single Ladies (Put a Ring on It)" is an uptempo song that's fun. But it's also something women go through every day. "Irreplaceable" is also about something people experience every day. More than anything, I always try to challenge myself and do a variety of different things. On "Sasha Fierce," the slow album showcased my vocal ability a lot more. And I had the uptempo album to showcase the dance.

I've tried to be an artist who pays attention to detail and who is also a strong vocalist, performer and songwriter. I'm very happy to see other female artists challenging themselves to do everything. That's something we started with Destiny's Child. We were very young, writing and producing our own songs. I'm very proud of that.

What will Beyoncé/Sasha Fierce be doing in five to 10 years?
Probably the same things. But maybe I'll be spacing it out a little more. [laughs] Not every year; maybe every three years.

Maybe also a mom?
In five years…yes, probably.

Any ideas yet about your next album?
I haven't actually started writing anything. Maybe after I leave for Australia on the next leg of this tour.

You can't end this interview without one last question: Any truth to the rumor about a Destiny's Child reunion tour and/or album?
I don't know if we would do another record anytime soon. And we haven't talked about a tour. That's just been something floating in the media. If people keep talking about it, maybe we'll do it. If that's what people want… who knows? But whenever the girls need me or I need the girls, we're here for each other.
Cover via: Beyonce Daily
Be the first to receive breaking news alerts and more stories like this by subscribing to our mailing list.