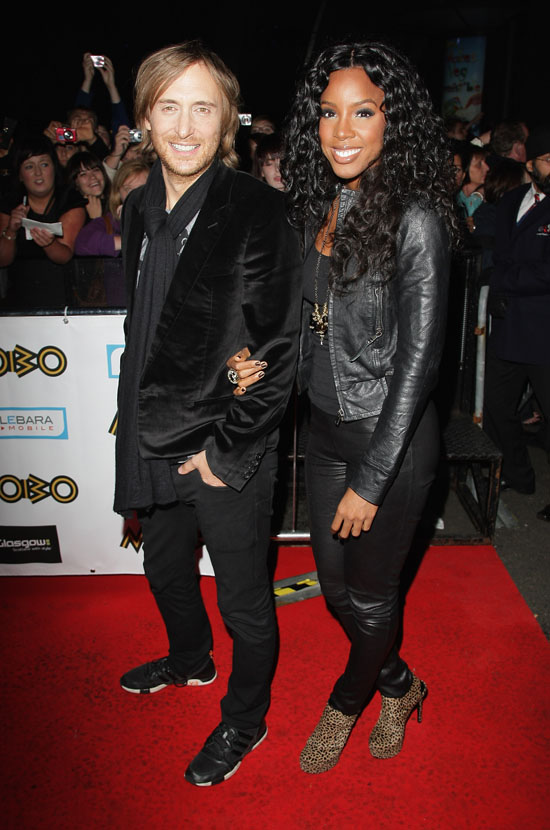 Singer Kelly Rowland and French DJ David Guetta attended and performed at the 2009 MOBO Awards Wednesday (Sep 30) in Glasgow, Scotland. Other celebs on the red carpet of the show were Keri Hilson, Alexandra Burke, Jermaine Jackson and more.
In related news, Kelly is demanding an apology from the MOBO Awards after her and David's performance of "When Love Takes Over" was briefly disrupted due to some technical difficulties with the sound.
Just seconds into a rendition of her current duet with David Guetta, "When Love Takes Over," at the awards honoring Music of Black Origin, Rowland encountered some technical difficulties with her sound and did what any seasoned pro would do: She stopped singing and stood there looking confused. Granted, her gormless expression lasted just a few seconds—during which time her background dancers can be seen furiously motioning offstage—before resuming the tune, but the same can't be said for her anger.
"OK. So, I'm at the MoBo's and getting ready to have a GREAT show with David and the MoBo's F'd my sound up!!!!! PISSED!!!!!" she wrote in the first of many tweets on the topic. The frustration—and, if you can believe it, punctuation—only grew from there. "HONESTLY, that just makes me work harder! But, what I will say is the MoBo's owe me an apology!!!! I was LIVID after the show!" And, it seems, rather communicative. "I wanted you guys to be the 1st to hear it from me! reheasrsals. were fine. soundcheck. was fine. performance, wad a struggle at 1st. But, I got through it!!!!!!!! So—It happens! The next show will be Better!—TRUST!!!!!!!!!"

SOURCE
Be the first to receive breaking news alerts and more stories like this by subscribing to our mailing list.