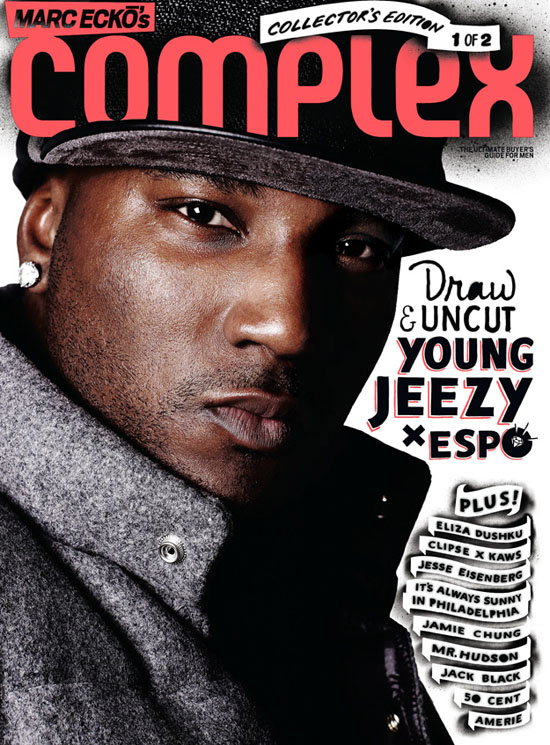 Complex Magazine revealed their second cover for their upcoming October/November 2009 magazine issue, which features rapper Young Jeezy. The illustration was done by ESPO, a graphic artist out of Philadelphia who shares Jeezy's interest in confronting American capitalism. The actual issue doesn't drop nationwide until October 6th, but in the meantime check out a few photo outtakes and snippets from the interview…
Everyone seems to downplay your creative process as a songwriter. So walk us through developing a song.
Young Jeezy: I don't go in the studio like, "I'ma make a smash today"—that ain't my whole method. My music is feeling. If I just left the club or somethin', I'll probably go and cut a club record. If I'm going through something, then instead of it being bright in the studio, it might be a little dark, a little mellow in there, and it might be a feeling song.

So when you're writing rhymes, and sh*t's starting to connect, how do you feel?
Young Jeezy: Oh man, I get this sh*t in my stomach, it's almost like butterflies.

People probably understimate your level as an artist.
Young Jeezy: Yeah, but you know, it's always that fourth album. It's like, n*ggas question Jay, n*ggas question Tip, niggas question Wayne, you know what I mean? It's that fourth album: "Can you do it again?" Like I did it the first time. Came back, The Inspiration, done it again. The Recession, done it again. TM103, we're doing it again! And it ain't about a fan base — these are not fans. I look at this shit like family, like when you talk to your cousin: "Get your money." But it ain't what you got, it's what you keep.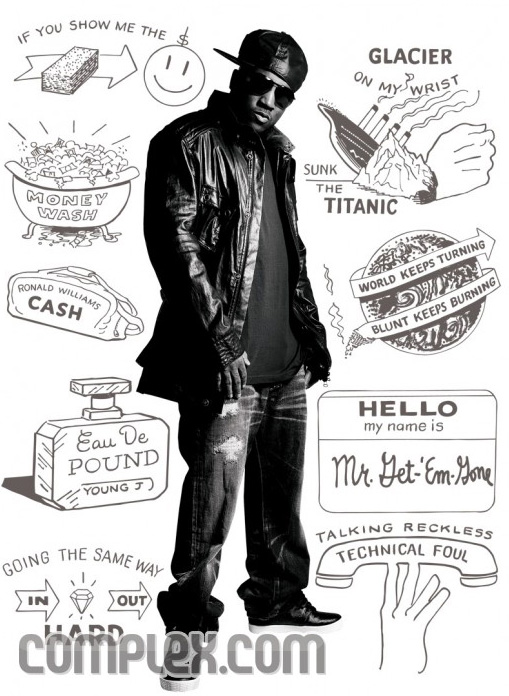 Anyone in your family have musical talent?
Young Jeezy: Nobody really, man, it's crazy. We always hustlers, we just know how to hustle.

Your whole family?
Young Jeezy: My grandmother ran numbers! You know what I'm saying? Pretty much my whole childhood, she was the number lady, so she always had a pocketful. Bought the boys Pumas every now and then, you know what I mean?

Does your situation with DJ Drama —

Young Jeezy: Man, I would never talk about that in my Complex Magazine interview, are you crazy? [Laughs.] No more light. Fight is over. No more light. Grown, baby, we moving on. I ain't really no n*gga to search for attention or do sh*t to get attention. I never mentioned n*ggas' names, or said anything about anything throughout my career to get no cool points — I just mind my business. But at the same time, I'm a man first. If I feel offended, I'ma speak on it. Like you, you're not gonna be walking along and a motherfucker just say something crazy to you in the middle of Manhattan and you gonna just keep it moving? You're gonna say your piece or what? [Laughs.]

I'ma send you! The real Jenkins, to handle my sh*t.
Young Jeezy: [Laughs.] Nah, I'm not —
Read more of the interview at Complex.com!
Be the first to receive breaking news alerts and more stories like this by subscribing to our mailing list.