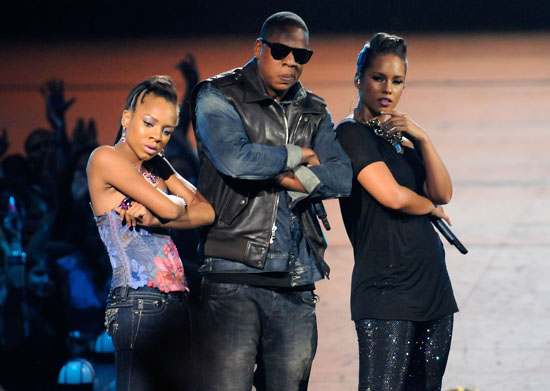 Rapper Lil Mama says her emotions were running last night during the VMAs as Jay-Z and Alicia Keys performed their song, "Empire State of Mind." She sent in an apology statement to MTV earlier today apologizing for jumping on stage with the two icons, who for the most part, ignored her presence altogether.
"I did not mean any disrespect towards Jay-Z or Alicia Keys," the statement reads. "I admire them and look up to them as role models. 'Empire State of Mind' had my emotions running high. In that moment I came up onstage to celebrate my two icons singing about NY."
Jay-Z appeared to shoo her off when he noticed her up there and said, "You're T-Paining." But she didn't care. She kept on bopping her head and rocking to the music before striking a pose along with Jay and Alicia at the end of the performance. We would have loved to hear the conversation that followed!
Check out the video after the break.
Be the first to receive breaking news alerts and more stories like this by subscribing to our mailing list.