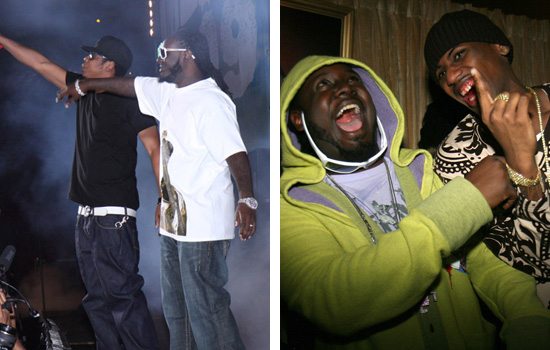 T-Pain says there's no beef between him and rapper Jay-Z and the only reason he said what he made those comments at that club in Vegas was to get the New York rapper's attention so that he could clarify exactly who he was targeting with his song, "D.O.A. (Death of Autotune)."
"Every time I saw his interviews, he just said, 'T-Pain is a talented dude,' " Pain told New York radio station Power 105's Ed Lover Wednesday morning (September 9). "But I will say the interview he did yesterday" — in which Jay said, "I made it very clear I wasn't talking about him" — "that made me feel better." T-Pain said his issue with Jay-Z stemmed from the two's appearance onstage at Hot 97's Summer Jam concert in New Jersey in June. T-Pain joined Jay-Z during his performance of "D.O.A." just days after the rapper premiered the track. In the song, Jay-Z jabs at artists who have been relying on Auto-Tune too much for their vocals; he absolved Lil Wayne and Kanye West from his complaint, but wasn't quite as vocal in defending T-Pain, who played a major role in bringing the vocal-enhancing device into the pop consciousness.

T-Pain said he was a fan of the song from the onset, and said he even reached out Jay-Z to join him onstage during Summer Jam. But Jay-Z told him he was overseas in Switzerland, he said, and wouldn't be able to make it. When Jay-Z did make a surprise appearance at Summer Jam, T-Pain said he was shocked. Hov went onstage with Young Jeezy; T-Pain said he joined the pair onstage at the recommendation of one of Jay-Z's associates. Afterward, though, according to T-Pain, Jay-Z snubbed him.
"I'm ready to go on stage after Jeezy's set and [the concert organizers] said, 'Hold on, Jay-Z is about to come out with Jeezy,' and I said, 'Well, Jay-Z is in Switzerland.' They say, 'No he's not, he's right there,' and I look and there's Jay-Z. So he gets on the stage and when he gets to the part [on 'D.O.A.'] where he says, 'I don't need anyone smiling at this,' he pointed at me. And then at the end of the song, when I tried to shake his hand, he turned around and said 'Good riddance.' "

The Vegas gig was the first time most fans heard about the situation, since Fabolous tweeted about it. Fabolous then started an anti-T-Pain crusade on Twitter on Tuesday after an imposter T-Pain account called him out, but once Fab realized it was a fake, he backtracked.

T-Pain said he's spoken with Fab and the two have patched things up.

"I feel a lot better," T-Pain said. "Neither me nor Jay-Z have time to go through this beef crap. I'm a fan of Jay-Z, I'mma always be a fan of Jay-Z. Me and Fab talked today. He apologized and said it was stupid on his part."

SOURCE: MTV
Be the first to receive breaking news alerts and more stories like this by subscribing to our mailing list.