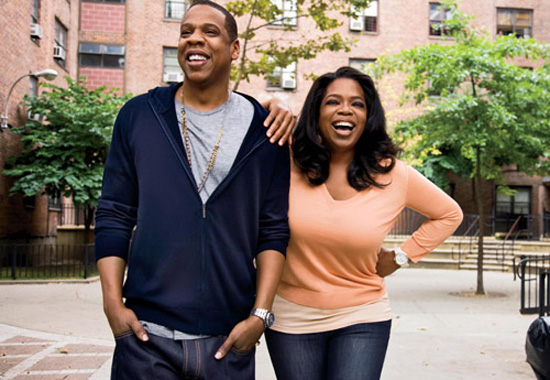 It looks like Jay-Z will be on Oprah after all! The Brooklyn bred rapper took the famous television talk show host on an exclusive tour of the Marcy Projects of Bedstuy, Brooklyn in New York City (Jay's old neighborhood) and talked her about his past as a teenage drug dealer and bullet dodger. They also discussed his rise to fame in the late 1990's which led to his current success in the late 2000's as a hip-hop mogul and household name, in addition to touching on his marriage with superstar Beyonce. All of this will be featured in an upcoming issue of Oprah's "O Magazine," but Jay-Z revealed to New York's Hot 97 radio station that the interview will also air on The Oprah Show on September 24th.
Jay-Z told Hot 97's Cipha Sounds and Peter Rosenberg exactly why he wanted to bring Oprah to the hood.
"I brought her around there really for the neighborhood," he explained. " 'Cause a lot of times, when you see people or you hear about Oprah Winfrey, she seems almost untouchable. When I saw her, it was shocking to me. So I know how that feels, to see someone on TV and hear their name and know they're so hugely successful. They seem unattainable … but for them to be around the way and for kids to just see that."
Her surprise appearance, along with Jay-Z, Rihanna and Kevin Liles, was shocking to the residents of the neighborhood and they definitely appreciated it, but precautions did need to be in place. Jay says her security was equipped with helicopters in all to make sure everything was okay. It's not everyday you have people like Oprah, Jay-Z, Rihanna and Kevin Liles walking through the projects.
"There was a lot of people out there," he said. "It was Oprah, you know? You don't want people to come snatch her up. [There was] like secret service and helicopters all around."
SOURCE: MTV
Be the first to receive breaking news alerts and more stories like this by subscribing to our mailing list.