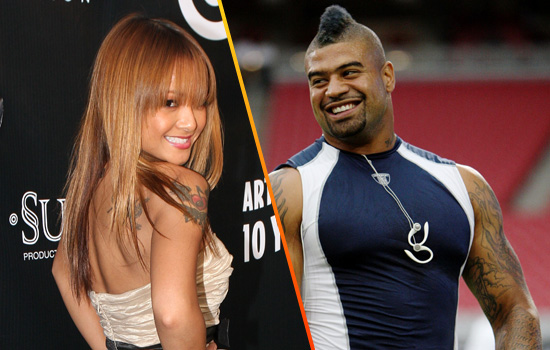 Tila Nguyen, best known as "Tila Tequila" accused her NFL linebacker boyfriend Shawne Merriman (of the San Diego Chargers) of choking and restraining her when she tried to leave his apartment Sunday early Sunday morning (Sep 6). The police were called at about 3:45 A.M., which subsequently led to Merriman being arrested and accused of "battery and false imprisonment." Tila was taken to a local hospital while Merriman was taken into custody. He was later released on $58,000 bail and no charges have been filed.
But it's not that cut and dry. Merriman says that he wasn't trying to hurt Tila. He was only trying to help her because she was drunk as a skunk. An allegation Tila vehemently denies because she claims that she's "allergic to alcohol." However, TMZ released pictures of the couple at Stingaree nightclub in San Diego just a few hours before the alleged incident occured. One of the pictures show Tila giving Shawne a lap dance, which clubgoers say occurred all night long. She even sent out a tweet proclaiming how drunk she was on her way to a football game!
Dman im drunk!!!!!!! Im headed to this Chargers VS 49ers game right now!!!!!!!! YAYYYYYYY!!!!!! @shawnemerriman u ready?? LETS GOOOOO! =)
Doesn't sound like someone who's "allergic to alcohol" to us…
On top of that, Shawne has released a statement to FOXSports.com backing up his story in an effort to clear his name.
"On September 6, 2009 the San Diego Sheriff's Department responded to a citizen's complaint that was initiated by Tila Nguyen (aka Tila Tequila). I was taken into custody based upon that complaint. At the time, I was concerned about her welfare given the intoxicated state she appeared to be in and I encouraged her to stay until safe transportation could be provided.
"We would all do our best to help a friend if we considered their actions to be detrimental to their personal safety. I in no way caused any harm to Ms. Nguyen, however, paramedics were called and she was examined but no injuries were reported. She was released and has since returned to Los Angeles, California.

"There have been no charges filed against me. I want to thank the San Diego Sheriff's Department for their professionalism. I will continue to cooperate fully with the Department, and I look forward to clearing my name regarding these false allegations. I want to put this behind me so I can continue to focus on a successful season for the San Diego Chargers."
Tila nor her publicists have released official statements on her behalf.
Be the first to receive breaking news alerts and more stories like this by subscribing to our mailing list.