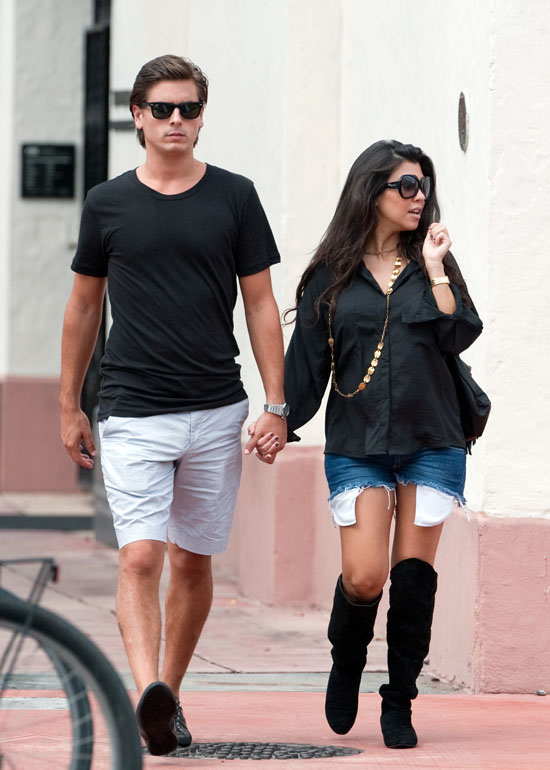 Expectant parents Kourtney Kardashian and Scott Disick were spotted holding hands as they took a walk in Miami Beach Thursday afternoon (Sep 3).
The off and on couple reportedly visited the Fontainebleau hotel's steakhouse Gotham Steak the night before with Kevin Federline, his girlfriend Victoria Prince, musician Cisco Adler and rapper Shwayze. After the "dinner date," Scott and K Fed hit up the hotel's LIV nightclub to take in a performance by Adler and Shwayze. Everybody called the outing Scott's a "man shower," the equivalent to a "baby shower."
"We were joking that it was Scott's 'man shower,' like his version of a baby shower," Kardashian tells PEOPLE. "Guys get excited too about having a baby, so they should do something too. One of our friends started calling it a 'man shower,' but I was like, 'Guys don't have tea and open presents!' But for them, dinner and then going to a nightclub is a 'man shower.' They thought it was funny."

As for the male bonding, Kardashian says Federline gave her beau "some cute advice about being a father, he was really sweet, saying how Scott's life will change."  Kardashian says that evening is where the "man shower" festivities will likely stop. "That was it," she says. "That's as far as guys will ever plan unless they need an excuse to go out! I had no desire to go. I was relaxing, chilling. If they want to go have a 'man shower' in Miami, then go ahead!"

And did the boys behave? "Yes," she says. "And it's downstairs, so if I needed anything, it's close. I totally chilled." The previous night, Federline and Prince visited The Gansevoort South hotel's Louis Bar Lounge, where they shared a table with Disick and danced to tracks by Prince, The Rolling Stones, Jay-Z and The Ting Tings.

Federline was in Miami co-parenting his kids with ex-wife Britney Spears, who performed a sold-out show at American Airlines Arena on Wednesday night.

SOURCE: PEOPLE
Be the first to receive breaking news alerts and more stories like this by subscribing to our mailing list.