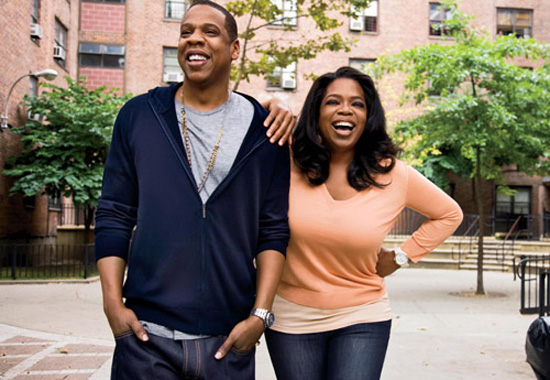 Rapper Jay-Z took Oprah Winfrey to his old neighborhood in the Marcy Projects of Bedstuy, Brooklyn and opened up to her about his past as a teen drug dealer, his superstar hip-hop status and his marriage to one of the biggest female entertainers alive, Beyonce Knowles, for the October 2009 issue of O Magazine. He also talks about getting shot at, usage of the N-word in hip-hop lyrics and offending people due to the fact that he and Beyonce had to keep their surprise wedding a secret.
Oprah: So tell me how you got into the drug dealing.

Jay-Z: It was natural.…

Oprah: Because drug dealers were your role models. There wasn't a teacher or a lawyer or a nurse or a doctor or an accountant in the neighborhood?

Jay-Z: Well, we were living in Marcy by then, so, no. And if anyone did become something like that, they moved out. They never came back to share the wisdom of how they made it. If anyone made it, you never knew it. That's why I've always said that if I became successful, I'd come back here, grab somebody, and show him how it can be done.

Oprah: So by the time you were 13, this was a way of life. Did the lifestyle frighten you?

Jay-Z: No. It was normal. And at some point, you become addicted to the feeling. The uncertainty and adrenaline and danger of that lifestyle.

Oprah: This is where we differ. This is where we differ. Because I'd be very scared! Weren't you shot at three times—within six feet—and you lived to talk about it?
Jay-Z: That was divine intervention. Divine intervention, and nobody knowing how to shoot.

Oprah: What happened in each situation?

Jay-Z: It was one situation, three shots.

Oprah: So he was a bad shot.

Jay-Z: Well, no one really practices shooting a TEC-9 machine gun, right? And when you're a kid, with little bony arms—no wonder nobody could aim.

Oprah: Many of the little boys who grew up in the Marcy projects are either in jail or dead. Why do you think you got to grow up and buy your mom a house?

Jay-Z: There's the gift, there's the spirit, and there's the work—all three have to come together. If one of those things is off, it can stop you from becoming who you were meant to be.

Oprah: When I met you a few years ago, we discussed our disagreement over the use of the N word and misogynist lyrics in rap music. Do you believe that using the N word is necessary?

Jay-Z: Nothing is necessary. It's just become part of the way we communicate. My generation hasn't had the same experience with that word that generations of people before us had. We weren't so close to the pain. So in our way, we disarmed the word. We took the fire pin out of the grenade.

Oprah: Do you and Beyoncé have a pact that you just won't talk about each other?

Jay-Z: Yeah. When you're a public person, you have to keep some things to yourself, or else people will just—

Oprah: Eat it up. I know. But can I ask how in the world you kept your wedding a secret?

Jay-Z: Late planning!

Oprah: How many people knew?

Jay-Z: Very few. The sad part is that we offended some. But people who love you understand. Because at the end of the day, it's your day.

Oprah: So here we are, talking on a Sunday afternoon. If you weren't sitting here with me, what would you be doing?

Jay-Z: I'm gonna get killed for this, but I'll tell you anyway. There's a great pizza spot we go to every Sunday. It's our tradition. It's a small place in Brooklyn, you can bring your own wine, and there are candles there. It's a nice date.
The issue will be available nationwide on September 15th, just four days after Jay-Z releases his highly anticipated album, The Blueprint 3.
Be the first to receive breaking news alerts and more stories like this by subscribing to our mailing list.