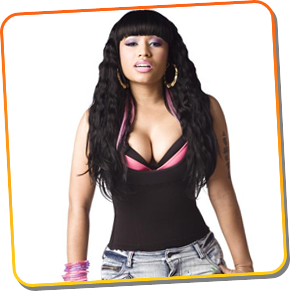 Up and coming female rapper Nicki Minaj is the latest addition to Lil Wayne's "Young Money Entertainment" family. Her deal was announced Monday (Aug 31) and Lil Wayne says that's honored to have her as the label's "first lady."
"I am honored to have Nicki Minaj as Young Money's First Lady. She is a star," Lil Wayne said in a statement.
Minaj gained a lot of buzz after the release of several critically acclaimed mixtapes, including her latest, Beam Me Up Scotty, which features Busta Rhymes, Lil Wayne, Gucci Mane and label mate Drake.
Nicki has always been a part of the Young Money family though, and she's currently one of the featured artists on Wayne's tour, "Young Money Presents: America's Most Wanted Music Festival." But it wasn't until today that the label officially announced that she was on the label's roster of artists. Her deal includes a special aspect where she retains and owns of her 360 rights, including merchandising, sponsorships, endorsements, touring and publishing.
"To say I'm excited would be an understatement. It's validation. It's proof. It's empowerment," Nicki said. "I represent every little girl in a hood near you. To everyone that supported me two years ago when I was on underground mixtapes and DVDs and to the people that only caught on two weeks ago, I say thank you. Be proud of yourself. You've given girls all around the world the permission to change the face of female rap."
Nicki Minaj's debut album is set to drop in early 2010 and will be distributed through Universal. In the meantime, catch her on the America's Most Wanted tour, along with Young Jeezy, Soulja Boy and of course, Lil Wayne.
Be the first to receive breaking news alerts and more stories like this by subscribing to our mailing list.