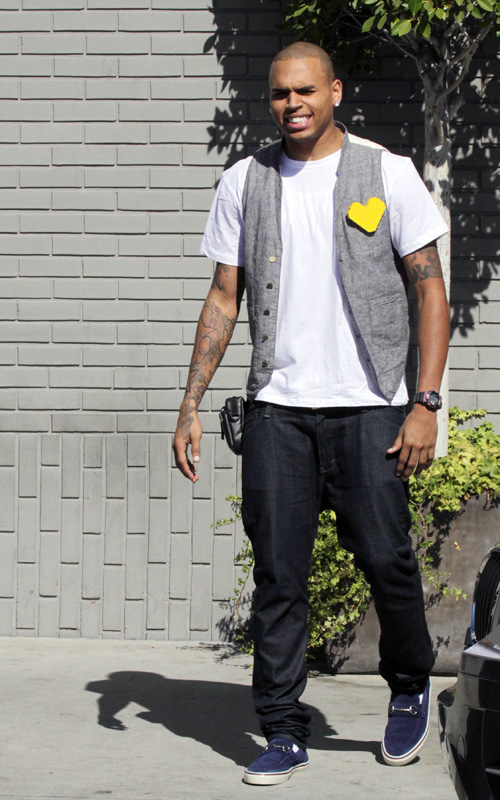 Chris Brown was spotted with a big ol' smile on his face as he made his way into a recording studio Tuesday (Aug 25) following his sentencing at the Los Angeles County Superior Court. Chris is currently hard at work on his third album, Graffiti, due in stores later this year.
Later that night, he was spotted partying it up at Los Angeles' popular Guys and Dolls nightclub. According to TMZ, he may have broken the law as the terms of his probation states that he isn't allowed to go to places where their chief product of sale is alcohol. But luckily for Chris, the judge didn't specifically state this at his sentencing so he may get to slide … this time. Homeboy better watch his back though! It seems like everybody's looking to get him caught up so he can get locked up for the next 5 years…
Club-goers say Chris really enjoyed himself though!

An onlooker said: "He stood up on the back of the booth when [Michael Jackson's "Dirty Diana"] came on, got a mic and not only sung, but danced his a*s off. He didn't seem to care at all that everyone was watching him. He was in a totally good mood, just hanging out with his buddies. Then all of a sudden he decided to put on a little show."

After his performance, Chris said: "There was only one 'King of Pop'. We love you, Michael."

SOURCE: CONTACT MUSIC
Be the first to receive breaking news alerts and more stories like this by subscribing to our mailing list.